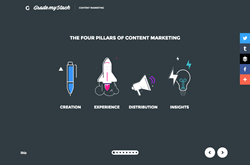 Grade My Stack will prove to be a valuable tool for assessing one's current marketing software, and an incredible discovery tool, powered by the professional opinions of other sophisticated content marketers."
Toronto, Ontario (PRWEB) March 23, 2016
Uberflip today announced the release of a new marketing software analysis tool, Grade My Stack. Grade My Stack lets marketers organize their marketing software based on the 4 pillars of content marketing framework and ultimately receive a grade on how robust or limited their stack is.
"Grade My Stack is a free tool for marketers to build out their marketing stack on the 4 pillars framework, so they can easily identify any gaps, discover new tools, and even receive a grade on the completeness of their stack," explains Uberflip CEO, Yoav Schwartz. "With time, Grade My Stack will prove to not only be a valuable tool for assessing one's current marketing software, but an incredible discovery tool, powered by the professional opinions of other sophisticated content marketers."
Users will be able to group the software their companies use under the 4 pillars (creation, experience, distribution, and insights) and even further into subcategories like ideation, lead generation, social media, and ROI in hopes of getting a better understanding of what areas they should be focusing more on or where they have ample tools.
Grade My Stack arrives at an ideal time as the marketplace is saturated with thousands of different software options for marketers to choose from. At MarTech 2016, Scott Brinker, marketing technologist and founder of ChiefMartec, explained how over the past few years, the number of companies in the marketing technology space has grown to over 3500, an 87% increase from last year and a large jump from 150 in 2011 when he first analyzed the marketplace.
Through Grade My Stack, marketers will be able to benchmark their current stack against other marketers while also discovering new tools to fill out areas where they have no tools or to replace one tool for a better option. Once they complete "bucketing" their software under the pillars and subcategories, their stack will receive a grade, giving the marketers an idea of where they can improve.
More information about Grade My Stack can be found at grademystack.com or in Schwartz's open letter about the idea behind Grade My Stack on the Uberflip blog.