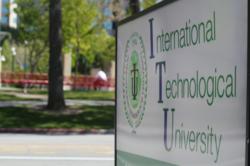 We're excited to promote our university's success in training some of today's brightest minds.
San Jose, CA (PRWEB) March 10, 2012
ITU is a university founded by Dr. Shu-Park Chan, former professor and Dean of the Engineering School at Santa Clara University of 30 years. The classes are small, allowing for personable learning, and all courses are application-based, tailored to suit the needs of Silicon Valley corporations. For example, industry leaders from Intel and Google provide direct mentorship in the Artificial Intelligence and Bio-Technology labs. Offering comprehensive educational programs in some of the country's leading fields, ITU announced that it has opened its doors to local students for summer enrollment.
To increase overall visibility of the university, ITU will be partnering with Hearst Media Services to increase its online presence, harnessing the popularity of SFGate.com and PR Web, the largest online PR channel in the world.
"This push to market ourselves will help our potential students find us. In addition, we're excited to promote our university's success in training some of today's brightest minds," said Cindy Dinh, spokeswoman for ITU.
Today, some of the most exciting and well-paying fields include Bio-Technology, Computer Sciences, Software Engineering and Electrical Engineering. The academic requirements necessary to enter these fields have risen dramatically over the last several decades. ITU's available academic programs provide students with the skills they will need to be successful in today's computer driven economy.
In addition to their academic programs, ITU provides a large number of workshops throughout the year aimed at introducing and educating today's professionals about the exciting new fields that are emerging throughout Silicon Valley. Digital Arts Chair Cedrick Chan, with film credits including Star Wars and The Mummy Returns, recently led a workshop based on International Arts & Media Challenges.
"The educational opportunities we are providing through our workshops and lectures will greatly increase the productivity of Silicon Valley's technology driven workforce. From mobile application development on today's modern smartphones to exciting new advances in the world of bio-technology, we're helping to educate tomorrow's problem solvers," explained Dinh.
For more information about ITU, call (408) 636-7402 or visit them on the web at http://www.ITU.edu.
About ITU
With seven strong departments providing high quality academic and practical training, ITU offers unparalleled certificate, graduate and doctorate level programs in electrical engineering, computer/software engineering, engineering management, international business, interdisciplinary sciences, and digital arts. ITU degree programs aim to educate competent engineers, engineering managers and business administrators with a deep understanding of professional ethics, intellectual property law, environmental protection and other contemporary issues.
ITU is also recognized by the Bureau of Private Postsecondary Education (BPPE), and has been granted candidacy status by the Accrediting Commission for Senior Colleges and Universities of the Western Association of Schools and Colleges (WASC). This status places ITU among the recognized list of institutions on the U.S. Department of Education's database of recognized institutions of higher learning and the Council for Higher Education's Listing of Accredited and Candidate Institutions (CHEA).