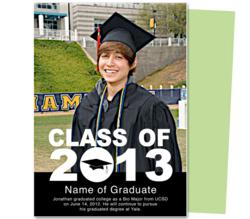 The templates are very versatile since the customer is able to embellish them or leave them as they are.
San Francisco, CA (PRWEB) November 20, 2012
A graduation is an important milestone in a person's life. It marks a huge accomplishment in education as well as personal growth. Sharing the excitement and news with family and friends is a common thing to do! Often having invitations or announcements made by a printer can take weeks to receive and may not always fit in the timeframe of a party or celebration.
Gone are the days of having to wait weeks for an announcement or invitation! The Celebrations of Life Store, an online template superstore has recently launched graduation announcements and invitations in the form of a template. The template files contain ready made professional looking designs that can be printed on a home printer or local office supply store!
Not only are these innovative digital products useful, they save time and money and in this economy, the savings can be substantial. The customer is able to enter personal details about individual events pertaining to the graduation party or announcement using software already installed on home computers.
Software applications such as Microsoft Word, OpenOffice, Publisher, and Apple iWork Pages are among the popular choices to edit templates of this nature. The customer can even insert a special photo directly on the announcement, if desired. The company has made every effort to create easy to follow tutorials to assist customers in the event additional help is needed.
"We stand behind our template products and are proud of the professional designs anyone can make within literally a few minutes! The templates are very versatile since the customer is able to embellish them or leave them as they are" reports Carole Galassi, CEO and Creative Director.
Unlike other online printing companies, the customer has choices in where they take the finished file to be printed. This allows the flexibility in handling time sensitive materials to be delivered on time. The fact that the customer is able to have total control from start to finish is a very positive selling feature of the templates.
The Celebrations of Life Store offers a large variety of layouts and design themes relating to any age graduation. From preschool to grad school, customers will be able to find a design that will suite even the smallest of graduates.
The templates are offered as an immediate download so the customer will be able to work on it immediately. Often this is an important factor for those last minute invites that need to go out. To view the company's latest addition to their large templates for every occasion collection, check out their website.