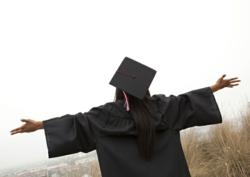 Scott has done brilliant photographic work for Cal State East Bay, including his coverage of our commencement ceremonies!
San Francisco, CA (Vocus/PRWEB) March 13, 2011
Graduates and their families want to remember the moment they receive their hard-earned diploma. San Francisco Bay Area photographer Scott Chernis specializes in capturing the true emotions of the event. He is currently booking graduation photography sessions for this spring.
From quiet moments of contemplation to ecstatic moments of joy, Chernis captures the precious memory of graduating from school. Chernis feels strongly about capturing lasting images of the unique celebration.
"By getting inside the graduation and shooting from the students perspective I am trying to tell a story that will resonate with students, faculty and parents," said Chernis. "Finding the poignant moment is difficult through all the noise of graduation, but it is my task and I find it. I don't rest until I am satisfied that the graduation will be remembered through great images."
For all of his San Francisco graduation photography, Chernis uses a range of lenses and lighting techniques to create pictures that are visually intriguing. He has worked for various universities, including Mills College, San Francisco State University, Los Medanos College and California State University East Bay. He has also worked extensively with the Hispanic Scholarship fund and is an advocate for educational advancements beyond photography.
"Scott has done brilliant photographic work for Cal State East Bay, including his coverage of our commencement ceremonies," said Jesse Cantley, Art and Design Director, California State University East Bay. "Scott is also very personable and a pleasure to work with. I would highly recommend his photography."
Chernis has a wide range of clients, from alternative energy brokers, to record labels, universities, and Fortune 500 companies. His work has appeared in magazines, advertisements, and websites around the world. An interest in food and culinary arts has led him to work with a number of restaurants and chefs, including a soon to be released book.
For more information about his Bay Area graduation photographer services or any of Scott Chernis' services, call him at (415) 290-2363 or view his work on the web at http://www.scottchernis.com.
About Scott Chernis
Scott Chernis is a San Francisco Bay Area professional photographer that specializes in graduations, food, jazz and performance, and event photography. Scott Chernis serves the San Francisco Bay Area.
# # #