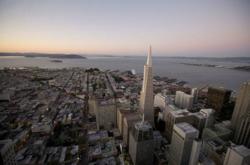 San Francisco is a world-class city and top destination for travelers across the globe and now SF Travel can offer a one-stop look at the city
San Francisco, CA (Vocus/PRWEB) April 15, 2011
San Francisco photographer Scott Chernis recently helped the San Francisco Convention and Visitors Bureau (SFCVB) in their efforts to re-brand and refresh as San Francisco Travel (SF Travel). He created an up-to-date photo library of San Francisco attractions for visitors to the new website, onlyinsanfrancisco.com. The project, which began in 2010 and was completed earlier this year, features over 1,000 images highlighting the unique beauty and magic of San Francisco.
"The SFCVB needed to modernize and update their message to compete in the current world of business and pleasure travel," said Chernis, professional photographer in San Francisco. "San Francisco is a world-class city and top destination for travelers across the globe and now SF Travel can offer a one-stop look at the city."
Initially, Chernis was commissioned to take portraits for the executive team for the new SF Travel website. They liked his work so much that they decided to have him capture images from around San Francisco to show website visitors what the City has to offer. Chernis produced more than 1,000 images that show San Francisco at her best. He captured everything from the Golden Gate Bridge and the Transamerica Pyramid Building to popular San Francisco restaurants and neighborhoods.
"Our initial commissions with Scott were for some executive team 'head shots,'" said Cindy Hu, Director of Editorial Services for SF Travel. "Scott infused them with much more personality, moving us beyond the typical 'yearbook' photos we'd been using for key staff."
The SF Travel website is now San Francisco's official guide for tourism. It offers hotel information, popular destinations, food and culture hot spots, upcoming events, and many other services for casual tourists and business travelers. The new photographs by Chernis show website visitors the unique sites they will find 'only in San Francisco.'
For more information about Scott Chernis' work with San Francisco Travel or any of his other photography services, call him at (415) 290-2363 or view his work on the web at http://www.scottchernis.com.
About Scott Chernis
Scott Chernis is a San Francisco professional photographer that specializes as a graduation, food, jazz and performance, and San Francisco event photographer. He has a wide range of clients, including alternative energy brokers, record labels, universities, and Fortune 500 companies. His work has appeared in magazines, advertisements, and websites around the world. An interest in food and culinary arts has led him to work as a San Francisco food photographer with a number of restaurants and chefs, including a soon-to-be-released book. Scott Chernis serves the entire San Francisco Bay Area.
###