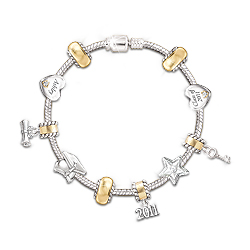 The engraving of the graduate's name on one of the delicate, heart-shaped charms is provided free of charge, and all charms come with an elegant, silver-plated bracelet
Niles, IL (PRWEB) May 17, 2011
Because graduation is a personal achievement that deserves to be recognized in a special way, The Bradford Exchange Online is pleased to offer a 2011 graduation gift that is as unique as the graduate who will receive it. The Head of the Class personalized charm bracelet is designed in a style that's definitely trending among young people today, yet it's handcrafted with care to be enjoyed for years to come as a personal jewelry keepsake. And the engraved personalization is offered absolutely free.
This stylish personalized charm bracelet comes complete with 10 moveable and interchangeable charms, shimmering with sterling silver plating and genuine Swarovski crystals. The individual charms include a star charm, mortarboard charm, hanging charms, 2 Class of 2011 charms and golden enamel spacer beads. The engraving of the graduate's name on one of the delicate, heart-shaped charms is provided free of charge, and all charms come with an elegant, silver-plated bracelet - to create the complete recent graduate gift.
"One of the biggest advantages of buying this bracelet from us is that there's no need to search for individual charms to create an impressive personalized graduation gift," states one of The Bradford Exchange's product managers from the Jewelry Division. "We do it all for you, and at a far better value than if you had to pay up to $35 for each separate charm. So we save you time and money, while offering you graduation gift jewelry that's unique and can't be found in any stores."
The Bradford Exchange Online offers not only this personalized bracelet for 2011 graduates, but also a wide selection of other fine jewelry that may also be beautifully personalized for free. Each has the potential to become an important personal jewelry keepsake that will be treasured for years to come.
The Bradford Exchange Online offers one of the best jewelry guarantees in the e-commerce marketplace, providing returns for up to 120 days and free return shipping. Visit them at http://www.BradfordExchange.com.
###