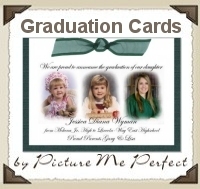 We had the opportunity last year to donate to a public school program using DonorsChoose.org
Houston, TX (PRWEB) March 19, 2009
Picture Me Perfect (http://www.picturemeperfect.com), an online retailer offering custom announcements, invitations, and stationery, announced a new program with DonorsChoose.org. For every Graduation Card order shipped, Picture Me Perfect will donate $1 to a DonorsChoose.org public school project.
Each time approximately $200 is raised, Picture Me Perfect will choose a DonorsChoose.org program to fund. The program selection criteria is yet to be determined.
"We had the opportunity last year to donate to a public school program using DonorsChoose.org," said Lance Thompson, Co-Owner of Picture Me Perfect. "We were so impressed with DonorsChoose.org that we decided to develop an ongoing program to donate to public school projects."
"We are thrilled that Picture Me Perfect has chosen to support public education through DonorsChoose.org," said Zach Walker, Relations Manager with DonorsChoose.org. "This year, as each student celebrates their graduation, Picture Me Perfect's generosity will enable us to assist many more students in reaching this milestone."
About Picture Me Perfect
Founded in 1999, Picture Me Perfect offers custom invitations, announcements, and stationery with photo and non-photo designs. Their line of Graduation Announcements offers graduates an alternative to traditional cards offered by many schools, with classic and modern designs featuring the graduate's photo. With personalized customer service rarely seen in today's high-tech market place, the quickest turn around you'll find, affordable pricing, and a 100% money back guarantee, Picture Me Perfect can design the perfect cards for you.
About DonorsChoose.org
The DonorsChoose.org is a 501(c)(3) not-for-profit corporation, dedicated to addressing the scarcity and inequitable distribution of learning materials and experiences in our public schools.
# # #