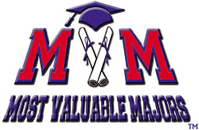 The MVM brand says that is okay to: Just Be You. So honor the scholars and give them MVM
Los Angeles, CA (PRWEB) May 22, 2008
MostValuableMajors.com has launched their second website to provide career- and major-based gifts for students, for fundraisers, and for graduations around the world. Athletes have their gear and now students have theirs. Most Valuable Majors (MVM) currently features 15 different majors including Art, Business, Communications, Computer Science, Education, Engineering, Film, Math, Music, Nursing, Pre-Medicine, and Theatre.
Traditionally, if a student wanted to represent their career goals they were limited to the designs of their college's bookstore. Now MVM offers the alternative to college-based or college name brands. While college-based apparel allows a student to show their connection with their college, MVM apparel and merchandise enables students to show their connection to their major and outstanding professionals known as Honorary MVM Scholars. These unique designs are available on t-shirts, sweatshirts, caps, and mugs. For the first time, any student who wants to show their love for their career or major will now have a source of clothing.
In the world of sports, the term Most Valuable Player (MVP), is the team's player with the most athletic skills or leadership ability. In the world of education, the new term/title, Most Valuable Major (MVM) will now be a title for students who motivate other students, earn major-based scholarships, and compete in major-based competitions. MVM will also identify, promote, and unite the greatest students around the world.
"The MVM brand says that is okay to: Just Be You. So honor the scholars and give them MVM," says MVM president and founder, Eugene E. Adams III.
Our society loves to focus on the best athletes and entertainers, but it is time to take a look at the professionals who support them and the amazing students that will become our future professionals. MVM will go where no brand has gone before.
Website: http://www.mostvaluablemajors.com
Contact Information
Eugene E. Adams
Mostvaluablemajors.com
(800) 686-1252
# # #