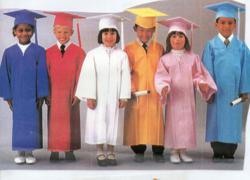 Last minute delivery guaranteed.
New York, NY (PRWEB) May 02, 2012
One of the oldest graduation gowns and regalia companies in the United States - Duffy and Quin/Craft Robe Company announced a nation wide sale with last minute guaranteed delivery of their unique graduation gowns and regalia as well as their confirmation robes line.
Duffy and Quinn/Craft Robe Co have been providing church robes and vestmensts, graduation apparel, school uniforms, judicial robes, and confirmation gowns for over 50 years from their factory location in New York City's famous Garment District.
The subject of a lengthy segment on the national televison program Good Morning America, Marvin Goldman, the owner of Duffy and Quin/Craft Robe Company provides humorous and interesting detail on the colorful history of the church robes business in New York City. You can watch the video here.