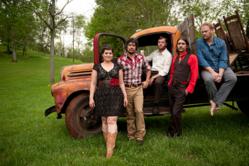 The Black Lillies are a great fit with the Grady Mac Denim Brand.
Knoxville, Tennessee (PRWEB) June 11, 2012
The Grady Mac Denim Company and Independent Music Award winners The Black Lillies are pleased to announce that they have entered into a partnership agreement. This partnership unites The Tullahoma Tennessee-based denim company with Knoxville-based Americana band to mutually promote and market each other through e-commerce, social media, retail, and live events.
"We are thrilled to have reached an agreement with The Black Lillies to help us market and promote our new premium denim jean line Grady Mac Denim", said Richard Davenport CEO of Tullahoma Industries, parent company of The Grady Mac Denim Company. "The Black Lilies are a great fit with our brand and their Americana style of music is the perfect compliment to our American made, handcrafted in Tennessee premium jeans. Jeans and music just go together, and The Black Lilies represent all of the things we want our jeans to be known for – an Americana, classic, feel-good style."
Grady Mac Denim will be available this coming fall through e-commerce and through specialty boutiques. Shoppers will be able to listen to music by The Black Lillies while they shop on-line at gradymac.com and will also be able to purchase the band's music and learn about concerts and events. In addition, Grady Mac Denim plans to work with retailers to package Grady Mac jeans with a bonus CD by the band. The Black Lillies will showcase the jeans at their concerts through special promotions and will promote the premium jean line on their website and through their social media platforms.
"Grady Mac Denim shares the same values we do," says Cruz Contreras, singer and bandleader for The Black Lillies. "We love that Grady Mac Denim is 100% made in America and handcrafted in our home state of Tennessee. We're proud to partner with a company that is rooted in their hometown and is truly part of the fabric of their local community. They have shown their commitment to quality materials and workmanship for generations, so we know that their jeans will stand the test of time."
About Grady Mac Denim
Based in rural Tullahoma, Tennessee - Grady Mac Denim is created by Tullahoma Industries, owned and operated by the son-in-law and grandson of Grady MacKnight. Tullahoma Industries is the same company that since the early 1980's has designed and manufactured the uniforms worn by the men and women serving our country in the United States Armed forces.
Tullahoma Industries is known for making quality clothing that is durable, reliable, and comfortable. And to this day is still a primary provider of uniforms for our troops. Now, Tullahoma Industries begins a new era by building on its American heritage by launching the Grady Mac Denim Company. Using all American Made fabrics and hand-crafted in the heart of Tennessee, Grady Mac jeans are modern and stylish, yet rooted in the same quality, durability, and comfort that Tullahoma Industries is known to produce. Featuring Bamblue denim – a bamboo/cotton blend, the jeans are highly durable, yet super soft with a bit of stretch to conform to your body. These premium jeans reflect your American spirit in their custom stitching and design, and are made to support and enhance your versatile active American lifestyle. No frills, just great looking, comfortable, classic American style.
Grady MacKnight was known for saying that "home is just down-right perfect" and it'll be no different when you slip on your first pair of Grady Mac's. There's no doubt, you'll feel right at home.
About the Black Lilies
Born in the rumbling cab of a stone truck and aged in the oak of Tennessee's smoky night haunts, The Black Lillies have quickly risen to the forefront of the Americana scene with their unique blend of country, roots, rock and blues via Appalachia. The band's 2009 debut recording, Whiskey Angel, appeared on multiple "Best of 2009″ lists across the country and won the Independent Music Award for Best Album, Americana. The band's current album, 100 Miles of Wreckage, is a 2011 Independent Music Award nominee for Best Album, Americana and was one of the top 40 Americana albums of the year – once again proving that a band with this much spirit can break through traditional industry boundaries to achieve success without the constraints of a major label. Hailed by critics and fans alike, the band has appeared at festivals ranging from Bonnaroo and CMA Fan Fair to Pickathon and graced the stages of clubs and performing arts centers nationwide – including, since their debut in June 2011, regular performances at the legendary Grand Ole Opry. The Black Lillies continue to tour non-stop, and without a doubt, they'll soon be appearing in a town near you. That's a relative term, of course, but trust us on this – they're worth the drive, however far it is, because you'll leave feeling like you've witnessed an old-fashion Southern tent revival. These songs will haunt your thoughts long after the curtain closes, rattling through your head like a crooked screen door slaps against its frame when a storm is coming. For more information, visit http://www.theblacklillies.com.