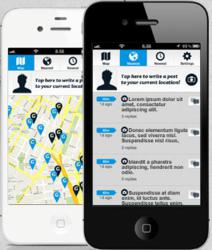 We are adopting Grafetee to test how a social media service is applicable to make the neighborhood safer and to help residents to influence their own neighborhood's safety.
Helsinki, Finland (PRWEB UK) 2 July 2012
The Police of Finland - Poliisi - wants to make neighborhoods safer by engaging the citizens of Finland in a mobile and online social conversation. Poliisi will be testing beta app Grafetee as a public safety tool in the following months, and engage with non-mobile users via Grafetee-supported interactive map on lahivinkki.com.
Already widely adopted in Finland, Grafetee allows users to update their status with images and text, and to alert the police in real time about things happening in their area, without having to actually make a call. With just a tap, citizens of Finland will be able to report a crime or a dangerous situation, or inform officials of any situation needing immediate attention. Likewise, the police can alert citizens and request support as needed.
The police will actively monitor both Grafetee app, and the online interactive map, responding to citizens' feedback. In case of emergencies, local users should still call 112 - the Finnish police emergency number.
With geo-fencing technology, being both location-aware and time-sensitive, Grafetee will only display content to users when it is most relevant to them - for example when they are near a location or specific event.
Available for iOS or Android devices, Grafetee is being tested extensively by users and businesses across Finland, and is available via Google Play and Apple App Store worldwide. As for testing by the Police of Finland - Poliisi, Co- Founder and CEO of Grafetee Juha Huttunen said;
"We're extremely excited to have the Finnish Police on board. Their testing and the ensuing refinements to the app will help us create truly useful location based services on our Grafetee platform."
With a wide array of potential use cases, Grafetee is useful for travelers, for finding and labeling businesses, and especially for businesses notifying people of their location and/or events. These simple sharing events, become even more powerful when organizations like police and emergency agencies adopt the service. Poliisi spokesperson Petri Marjamaa from the National Police Board commented:
"We are adopting Grafetee to test how a social media service is applicable to make the neighborhood safer and to help residents to influence their own neighborhood's safety."
Grafetee, a location-based networking platform for smartphones and mobile devices, also allows users to create destination guides by bookmarking real world places and events from the web to a smart device, through location-based public data, including third party data sources like Yelp, Foursquare and Wikipedia, as well as user-created public feeds and private feeds. The app also enables businesses to extend their reach from websites directly to consumers.
About Grafetee:
A smart technology application from Finland, Grafetee is a startup focused on people using "world-marking" (location-based bookmarking) about their geo-location, need, and interest. The company, founded by entrepreneurs and web technology veterans Juha Huttunen, Arttu Ylärakkola and Kalle Lundahn, utilizes proprietary technologies in connection with already popular mobile and web technologies (such as Foursquare, Yelp, Wikipedia and others) for the user. Established early in 2012, Grafetee is currently in beta testing mode. Grafetee is available for free for all Apple and Android mobile devices. Grafetee has also put up a nifty wall on their wall on Facebook to paint the world of Grafetee adopters and fans.