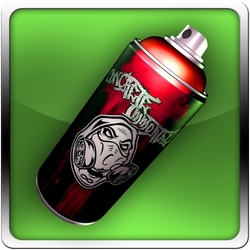 New York , NY (Vocus) May 28, 2010
The Elite Gudz Graffiti Spray Can App for the iPhone, iPod Touch and iPad, hit #1 on the iTunes Store Charts worldwide within its first week of release and was downloaded hundreds of thousands of times.
The all-new free App, which is available for download right now, hit #1 in the United Kingdom, France, Canada, Greece, Italy, Mexico, Turkey, Germany, France, Brazil, Portugal, Switzerland, Lebanon, Slovakia, South Africa, Indonesia and Luxembourg.
Elite Gudz spokesperson Maurice Freedman commented on the success of the application stating, "We are very proud of the team, and how the new app is being received. It only motivates us to continue supporting the art of Graffiti, and of course, more apps like the Graffiti Spray Can App highlight this. There is so much more to come. I know fans will be excited for what we have in store."
Project lead Brian Ferrara says, "We have been listening to the fans and reading the comments. We are dedicated to giving our customers everything they are asking for and more of what they are already enjoying. The first of many updates is coming and includes new content and features that will make a lot of people very happy. We are not only looking to make this the best Graffiti App available, but one of the best Apps available in general."
Graffiti Spray Can App Update #1 Will Include:
New Tools

Camera Support
Import Backgrounds from photo albums
Interface Improvements
Streamlined Background Interface
New Features
Background pack featuring the UK, Canada, Luxembourg, Paris, Mexico and Greece
Performance Improvements
You can download the "Graffiti Spray Can" App directly from iTunes by clicking here:
http://itunes.apple.com/us/app/graffiti-spray-can/id372003395?mt=8 .
Or, search for "Graffiti Spray Can" through the App Store from your iPhone, iPod Touch or iPad.
Get in the know -- visit EliteGudz.com.
To view the entire first issue of Concrete Immortalz online, visit ConcreteImmortalz.com
For behind-the-scenes content, visit the Elite Gudz Facebook Fan Page @ http://www.facebook.com/pages/Elite-Gudz/194289207940 .
Contact:
Brian Ferrara
Elite Gudz
Phone: 631-768-3186
http://www.elitegudz.com
http://www.concreteimmortalz.com
brian(at)elitegudz(dot)com
###