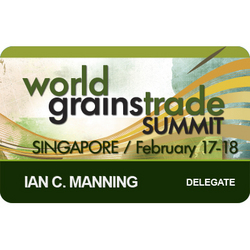 naturally want to hoard their grains until prices are surging.
Singapore (PRWEB) December 2, 2008
The Grains market has seen extreme volatility for the year 2008 as grains prices rose dramatically then reversed course and crashed sharply. The grains market was severely influenced by the cost of crude oil and volatility in the currency markets, as well as supply fears. Only adding to the volatile 2008 was the Credit Crunch causing prices to fall even further from its mid-year peaks.
So what will the future hold? The upcoming World Grains Trade Summit, to be held in Singapore on 17-18 February 2009 serves as the industry platform for expert sharing sessions and panel discussions on the future direction of Asia's Grains Markets. A key outcome of the event? Provide in-depth insights on how businesses can evolve amidst the volatile supplies and changing climate.
Noble Group Ltd's Head of Grains and Oilseeds, Diego Barbero will deliver the keynote address "World Grains Markets--Positioning Asia for the Future." In an interview with FT in August this year, Diego Barbero summed up the current market by noting that crop purchasers are forced to "play cat and mouse" with producers, who "naturally want to hoard their grains until prices are surging."
The UN Food & Agriculture Organization will also present an update on their Long-term Trends & Projections for Global Agriculture Commodities towards 2030 covering wheat, rice, coarse grains, oil crops, vegetable oils and products and livestock commodities.
Another key discussion topic is enhancing the safety of transactions and the role of the commodity exchange in protecting the interests of the grains market. The Chicago Mercantile Exchange Group (CME Group) will share their perspectives on measures to secure transactions on the exchange, and protecting interests of seller and buyer.
Other key contributors sharing market insights at the World Grains Summit include Singapore's newly established Singapore Mercantile Exchange (SMX), currently leading the market shift of agricultural commodities trading from the West into Asia.
World Grains Trade Summit also covers the following developments in the world's grains markets including:

Impact of Global Economic Downturn on Asia's Grains Markets.
Future direction of the uneasy energy crops-food grains relationship and impact of crude oil prices.
Collapse of the Baltic Dry Bulk Index and its impact on grains shipping.
Trade flow for Rice grains across Asia.
Corn market outlook for China.
Latest developments in wheat markets in Australia and AWB Ltd.
Production & Export of Grains in Ukraine & Black Sea belt.
Grains Markets dynamics in the Middle East with focus on Iran.
Grains Demand & Supply outlook for Africa.
Physical Risk Management solutions for Grains.
Round-table and panel discussions will also articulate strategies that grains and agricultural commodities companies are adopting to stay ahead of the current volatile market conditions and maintain investment inflow into the industry.
World Grains Trade Summit includes over 10 hours of networking with CEOs, MDs and Top Executives in the Global grains and oilseeds sector, and will serve as the grains industry networking platform for the year 2009.
For more information on the conference and opportunities to participate as delegates, media partners, exhibitors and / or sponsors at World Grains Trade Summit are urged to submit their registrations, enquiries and proposals at http://www.futureenergyevents.com/worldgrains/attend/.
About World Grains Trade Summit
World Grains Trade Summit brings industry experts and leaders together to collaborate and share relevant industry experience that will guide, inspire and assist key Grains & Oilseeds markets players with critical gap analysis; risk evaluations; trend and growth opportunity outlook in the world grains markets in Asia and around the world. World Grains Trade Summit is organized by the Centre for Management Technology, whose mission focuses on providing access to the latest technology and business intelligence through high profile alternative energy conferences.
###