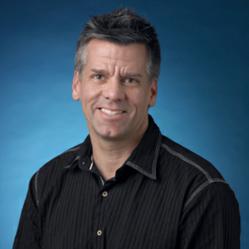 "What attracted me to
GRA | MATR was their passion for connecting customers with businesses by responding to their true needs..."
St. Louis, MO (PRWEB) May 09, 2012
GRA | MATR, a next generation digital engagement agency based in St. Louis, announced the addition of Jim Goodyear as Executive Creative Director. In this role, Goodyear will be responsible for not only leading GRA | MATR's creative strategy and vision but also cultivating and developing key client relationships.
"What attracted me to GRA | MATR was their passion for connecting customers with businesses by responding to their true needs," said Goodyear. "GRA | MATR's methodology and process are truly unique and are backed by powerful results. I am truly excited to be part of such a progressive agency," added Goodyear.
Before joining GRA | MATR, Goodyear served as Director of Creative Services at Maritz, Inc., Senior Account Executive at Busch Creative / Spark Agency and more recently as Brand Director for Loyalty Creative Services at Sears Holding Corporation - where he rebranded the Shop Your Way Rewards program for 80,000,000+ members for Sears, K-Mart and Lands End.
Goodyear has an extensive background in special events, creative communications and promotions and has nearly two decades of ad agency, public relations and corporate creative services experience in both B2B and B2C environments. Throughout his career, Goodyear worked with a variety of distinguished clients including HP, Cisco, Coca Cola, Anheuser-Busch, AT&T and Nissan.
"We are thrilled to welcome Jim to our team," said Brian Handrigan, President & Founder of GRA | MATR. "Jim's experience in creative design, combined with his deep understanding of strategic marketing, makes him a tremendous asset to our company. Having Jim on the team will allow us to further elevate our creative delivery for all clients," Handrigan added.
Other Recent Hires
Goodyear joins GRA | MATR's already growing executive team which includes recent hires Michael Behr as VP of Strategy & Brand Development, and Matt Jeter as Digital Team Lead. Since joining GRA | MATR, Behr and Jeter have helped grow and evolve the agency by leading its strategy, branding and digital marketing efforts.
Jeter has an extensive and unique background in digital media, online marketing, business development and fine art – as well as experience in creating web-centric marketing solutions for clients such as Gillette, Express Scripts, Elsevier, Olin Brass and St. Louis Community College.
Behr has more than 20 years of marketing and branding experience and has worked with a variety of notable clients, including Blue Cross Blue Shield, Best Buy, Charter Communications, American Enterprise Group, Monsanto, Savvis, Nestle, Sigma Aldrich and St. John's Mercy Healthcare. "I have never been part of a more innovative company," said Behr. "The team we have is incredibly talented and forward thinking."
About GRA | MATR
GRA | MATR is a next generation digital engagement agency, driven by strategy, informed by brand and measured by results. GRA | MATR helps clients transition from traditional, linear marketing to Radial Marketing™ by engaging target audiences on their terms, when they are at their most receptive cognitive state to engage with a brand.
GRA | MATR partners with clients in a variety of industries but has extensive experience in healthcare, consumer packaged goods and business-to-business brands.
GRA | MATR is a Google Certified Partner and offers a full suite of services, including brand development, marketing strategy, search engine marketing (SEM), display advertising, rich media advertising, onsite nurturing, retargeting display advertising, social media, PR, digital media buying and management, email nurturing and analytics.
Web: http://www.gramatr.com
Blog: http://www.gramatr.com/blog
Twitter: @gramatr
###