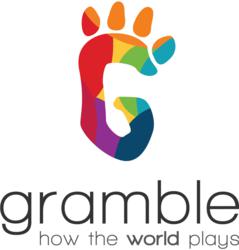 Developers who work with Gramble are granted complete ownership and creative control of their own IP in perpetuity
The Hague, the Netherlands (PRWEB) September 13, 2012
Designed to meet the needs of developers ranging from bedroom coders to triple-A game studios, the Gramble Android SDK is billed as the most complete and easy-to-use SDK currently on the market. All SDKs (for Android and other languages) are designed to make great games Gramble-ready as quickly and painlessly as possible by enabling integration into the worlds' most popular social networks, activity feeds, cross-game chat, scoring and achievements, an analytics dashboard, and cross-device game saving. Developers can decide which features they wish to implement (beyond the basic social layer), and all associated data is saved on Gramble's servers, giving developers one less thing to worry about.
In addition, developers who work with Gramble are granted complete ownership and creative control of their own IP in perpetuity. They will receive a straightforward revenue share – the most favorable on the market – as well as 100% of all in-game advertising. Developers will also be given their own social profiles, through which they can interact with players and build their fan base.
"We're really excited about all the interest we're getting so far," says Gramble CEO and co-founder Adam Palmer. "We're breaking ground on some exciting partnerships from all over the gaming world that we can't wait to share with the public. And we're just scratching the surface now – we expect our developer submissions to explode once the other SDKs are released!"
The Android SDK release has already attracted the attention of more than 100 interested developers from the US, Europe, and Brazil to Indonesia, Australia, Slovakia, and the rest of the world, as well as online developer networks such as FGL.com, Market.JS, and FindGameDevelopers.com.
 
However, Gramble is putting out the call for even more do-good developers to join them on their epic journey. Interested? Visit developers.gramble.com to register for their stealth launch this fall.
About Gramble
Launching this autumn, Gramble, part of Gramble World BV, offers a truly cross-platform social experience. Game progress stored on online servers ports from device to device – from smartphones to tablets, PCs, and Internet-enabled TVs – meaning players can pick up their game right where they left off, anytime, anywhere. Players will be able to challenge friends, share their pictures and personal achievements, and best personal challenges. Better yet, a portion of all Gramble revenues go to the network's family of charity partners, meaning that however a player's game turns out, everybody wins.