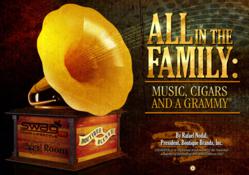 Lil' Wayne inspired Rafael to name his next cigar line "Swag."
Easton, PA (PRWEB) May 29, 2013
The all-new Cigar Advisor is an online cigar magazine that brings a fresh, irreverent, and down-to-earth perspective on all things cigars to thousands of smokers. In addition to educational cigar content and behind-the-scenes cigar industry articles from some of the business's top names, Cigar Advisor delivers an array of content about a variety of topics of interest to people who enjoy the cigar lifestyle. The magazine also features cigar reviews and ratings submitted by real smokers. Cigar Advisor has just published an article penned by Rafael Nodal, President of Boutique Blends Cigars, detailing his experience at the Grammy® Awards.
In 2009 Nodal attended the ceremonies with his wife Alina; Rafael describes in his piece, with deep parental pride, what he calls "a night to remember."
"I wish I had the opportunity to continue with my first passion, music," writes Rafael Nodal, founder of Boutique Brands Cigars and their flagship Aging Room cigars, and an accomplished musician in his own right. "But sometimes God works in mysterious ways." Rather than being known for his musicianship and compositions, Rafael is known for his award-winning cigars. But he's not the only award-winner in the family. In 2009 his stepson Marco, a.k.a. "INFAMOUS" received a Grammy Award for producing Lil' Wayne's Rap Album of the Year: "Mr. Carter."
In some ways, even more exciting than the Grammy nominations (Marco received three in all), was attending the awards ceremony and the celebrity-studded after-parties, where Lil' Wayne inspired Rafael to name his next cigar line "Swag." Moreover, Marco handed over his red carpet tickets to parents. "Walking the red carpet with all those celebrities," writes Rafael, "the paparazzi were probably thinking, 'who is this guy with the big cigar in his mouth?'"
About Cigar Advisor Magazine
Cigar Advisor magazine is a digital publication created for real cigar enthusiasts who love tobacco and live the lifestyle. Cigar smokers are passionate about almost everything they do - whether it's the drinks they savor, the food they devour, the cars and motorcycles they dream of, the sports they're fanatical about or the women they love, Cigar Advisor shares those passions with a razor-sharp edge, soaking up each day and experience as if it were our last. Find that passion and more on display at CigarAdvisor.com.