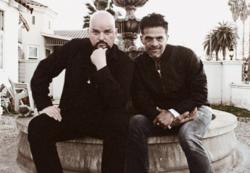 "I think some good music will be made at the event this weekend. We are offering guests a rare acoustic listening session that is sure to enhance their experience," said Castillo
BEVERLY HILLS, CA (PRWEB) February 08, 2013
YM & Associates is putting the final touches on its upcoming Grammy Awards Gifting Suite Experience – a rare opportunity for vendors to share their products in high-style among celebrities during the exciting Grammy's weekend on February 9. The event will include special performances by Grammy-nominated artist Omar Akram, who has been nominated for Best New Age Album, Alain Johannes of "Them Crooked Vultures" who is also currently touring with "Foo Fighters" frontman Dave Grohl's new band "Sound City Players," and Joey Castillo, formerly of "Queens of the Stone Age."
"We are honored to be asked by YM to perform at the Gifting Suite Experience and be among some of this year's Grammy nominees. Joey and I are looking forward to playing some great music," said Johannes.
"YM & Associates is a boutique Public Relations, Marketing and Branding agency, that has worked diligently to ensure the event will be a memorable occasion that guests and brands will want to share with their friends and colleagues," said Yvette Morales, Founder of YM & Associates.
Additional performers at the event will include Latin Pop Sensation Angel Lopez, Sony Recording Artist JMParis, Emerging Pop Star Jaysin Voxx , Indie Rock Star Aura, Indie DanceRock Super Group Pop Noir, Hip Hop Artist MC Imprint, Jazz-Rock Artist Paul Peress and more.
"I think some good music will be made at the event this weekend. We are offering guests a rare acoustic listening session that is sure to enhance their experience," said Castillo.
Keeping with the theme of music, this year's Charity of Choice for YM's Grammy Awards Gifting Suite Experience is KSBR (88.5-FM), a commercial-free, non-profit contemporary jazz and community information station serving Orange County from Saddleback College in Mission Viejo, California. KSBR also has weekend specialty shows featuring other musical genres such as Reggae, Folk, Ragtime, Rock, Latin Jazz, Blues, and Hip-Hop.
"We want the Gifting Suite Experience to be one of the most talked about, exquisite lounge events of the weekend, not only for the talent, but for the brands as well," said Morales.
YM's team consists of a collaboration of top notch professionals headed by Morales, including experts such as Kelly Bennett, Maria Arzola, Deborah Griffin, Kelly K., and Garrett Thomas.
The event will be held at the elegant Trousdale Estates of Beverly Hills – an exclusive, upscale neighborhood nested in Beverly Hills. Celebrity attendees will participate in the event to celebrate the 55th Annual Grammy Awards season by walking the Red Carpet while receiving high-end gifts along with enjoying hors d'oeuvres and exquisite wine.
Brands for the event already include items in beauty, music, apparel, hair products, hand bags, jewelry and more. Some of the brands are: Edge Music Network, a global interactive music network that provides live and on-demand digital broadcast content via a variety of channels, and Be-You-T-Full, by author Dr. Beth Haney, DNP, a book that educates people on simple cosmetic treatments to look and feel their best. Additional brands include: What A Betty, a line of unique vintage style hair accessories, LA Estate Rentals, a high-end luxury property rental company which caters to the stars, ISO Beauty, offering self expressive luxurious ionic strengtheners, and The Laura Soares Collection of Brazilian made swimsuits located in Beverly Hills.
YM's Grammy Awards Gifting Suite Experience is an exclusive, invitation-only event held in a private location in Beverly Hills.
For talent requests RSVP (at) YM-PR (dot) com, Media Request at Media (at) YM-PR (dot) com.
For Media and Interviews, please contact:
Yvette Morales
YM & Associates
PR | Marketing | Branding | Business Development
California | New York
949.244.9769 | 310.499.0906 Fax
YMoralesY(at)YM-PR(dot)com
YM-PR.com
Twitter: @YMTheBevHillsPR