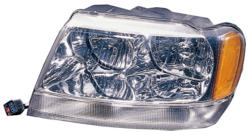 This company has now reduced the price of its Grand Cherokee headlights for auto owners or mechanics servicing these SUV vehicles.
Green Bay, Wisconsin (PRWEB) May 22, 2013
The Jeep series of SUVs produced by Chrysler includes the Grand Cherokee that took the place of the first edition Cherokee in the mid 1990s. The consumer confidence in this vehicle and the large numbers of auto parts buyers purchasing replacement parts has caused the Auto Pros USA company to discount parts for this vehicle online. This company has now reduced the price of its Grand Cherokee headlights for auto owners or mechanics servicing these SUV vehicles. The inventory of headlights and accessories can be searched online at http://autoprosusa.com/used-jeep-grand-cherokee-headlights-for-sale.
These new prices for 1995 through 2011 units are one effort underway to offer more affordable replacement parts as an alternative to auction websites.
Automotive dealerships have been a source for buyers to use to locate replacement parts for domestic vehicles. The warranty protection typically offered with new vehicles is designed to help replace parts broken or damaged during the warranty time period. Preowned vehicle owners do not always have protection from warranties and must purchase parts out of pocket. The headlight discounts and other price reductions now offered by the Auto Pros company are designed for preowned vehicle owners and other parts buyers to benefit online. Regular updates to the inventory carried by this company is helping to create more ways to purchase for buyers.
One additional way announced this quarter to help customers find and purchase parts is the integration of a new toll-free telephone number. The local number used by this company in previous years remains in effect although the new toll-free number is now a popular contact method. Customers now receive immediate access to a parts specialist when dialing 1-888-230-1731 from any location in the U.S.
This new number is opening up better ways to receive information or answers to questions about the preowned parts currently in stock. This number now serves as a secondary way to receive immediate price quotations for company inventory.
The online developments announced by this company, apart from the price reductions, has included a better quote system. A one-touch quote form is now installed for buyers to use when researching online. This new system allows buyers to receive pricing when business hours have ended each day. These quotes can be generated 24 hours a day to speed up the price distribution process. The one-touch system uses a series of criteria and requires no submission of personal information. This independent way to distribute pricing is helping more buyers access inventory numbers and pricing from any Internet connected device.
About AutoProsUSA.com
The AutoProsUSA.com company is a North American used auto parts retailer helping buyers find parts at reduced prices online. This company uses its vast database of parts to introduce more affordable purchase methods for buyers online. The technological advancements made by this company online has helped to increase the amount of orders placed on the company website. The AutoProsUSA.com has made offline contributions to its business model this year and has recently installed a new toll-free number for customer use. Along with these changes, parts warranty information and faster methods of shipment now round out the incentives that are offered to used auto parts buyers using this company as a supplier.