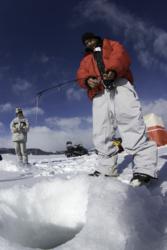 Granby, CO (PRWEB) January 03, 2013
After the last holiday decoration is stored away, the last Christmas cookie has been wolfed down and the last holiday bill (hopefully) paid off, winter settles in. Want to spice things up and try something new? Head to the Colorado Mountains and break out the ice auger - it's time for ice fishing. This winter, Grand County communities will play host to three major ice fishing contests.
25th Annual Three Lakes Ice Fishing Contest (Jan. 25-27, Granby) – The competition takes place over three days on three popular fishing lakes in the Granby area: Lake Granby, Shadow Mountain Reservoir and Grand Lake. Participants can fish one, two or all three days, and are eligible for cash prizes totaling more than $5,800 each day, as well as raffle prizes.
For Three Lakes' Grand Slam prize, fisherman work to catch one fish from each of the following species: Kokanee, rainbow, brown, and Mackinaw. After weighing all four fish, the prize is awarded to the heaviest creel, or basket.
The Three Lakes Ice Fishing Contest is open to all fishermen, not only the serious anglers. Fees for adults range from $30 for one-day participation to $45 for all three days. Those 17 and under are free. For more information, contact the Granby Chamber of Commerce at 970-887-2311 or visit http://www.granbychamber.com.
16th Annual Wolford Mountain Reservoir Ice Fishing Contest (Feb. 16, Kremmling) – Prizes abound at this one-day contest: $10,000 for the winning tagged-fish competition; a $5,000 cash purse for the top 10 largest fish (length plus girth); and hourly "big-fish" prizes for adults and youth. Registration cost $35 for adults and youth 15 and under who want to compete for the cash prizes. The contest also features a free youth division with prizes for the 10 largest fish.
For more information contact the Kremmling Area Chamber of Commerce and Visitor Center at 877-573-6654 or 970-724-3472, or visit http://www.kremmlingchamber.com.
2nd Annual Grand Lake Catch and Release Ice Fishing Contest (Mar. 2-3, Grand Lake) – Prizes are given in three categories (Lake Trout, Brown and Rainbow) for this two-day event. Over $9,000 in cash, door prizes, and giveaways will be offered throughout the event. The welcome Party, Fishermen's Feast, and more to entertain off the ice. For more information contact the Grand Lake Chamber at 800-531-1019, or visit http://www.grandlakechamber.com/index.html
Get social with Grand County Colorado and connect on Facebook and twitter for updates, photos and more.
About Grand County, Colo.
Located 67 miles west of Denver, Grand County is home to wide-open spaces, breathtaking mountain scenery and authentic old-west towns. Outdoor recreational activities include golf, boating, fishing, biking, hiking, fishing, hunting and horseback riding.
The area features more than 600 miles of mapped and marked trails, one national park, one national forest, two wilderness areas, two national scenic byways, two major ski resorts, five world-class dude ranches and four mountain golf courses. Grand County's extensive water network includes Colorado's largest natural lake, 1,000 miles of streams, 1,000 acres of high-mountain lakes and 11,000 acres of reservoirs. Download Grand County's new mobile app at http://www.visitgrandcounty.com