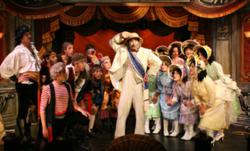 "The new building directly addresses the capacity issue," says Scott Haden, managing director of RMRT. "We no longer will need to turn away an average of 80 people a day."
Granby, Colo. (Vocus/PRWEB) February 15, 2011
When the curtains go up at the Rocky Mountain Repertory Theater (RMRT)'s season opener in Grand Lake June 10, they will be doing so in the theater's new complex.
The new 12,000-square-foot complex features 297 stadium seats – an increase of 73 percent over the previous theater. Over the past five seasons, the RMRT has run at an average capacity of 96 percent, with routine sellouts. "The new building directly addresses the capacity issue," says Scott Haden, managing director of RMRT. "We no longer will need to turn away an average of 80 people a day."
The Town of Grand Lake undertook a massive fundraising project to build the complex, raising $5 million since 2008. "In a town of just 450 residents, and with more than 600 individual contributors, it is a remarkable achievement," says Haden. "The RMRT is a focal point for the overwhelming generosity, work and commitment of the people and businesses of Grand County."
The new theater replaces the Grand Lake Community House, a log cabin structure built in 1922. The complex includes a lobby, backstage area, dressing rooms, set storage, enhanced sound, and advanced rigging systems and lighting components. A multi-purpose room, scheduled for completion May 13th, will provide space for rehearsals, community events and youth theatre programs.
The RMRT, now in its fourth decade, opens the season June 10 with Disney's Beauty and the Beast. Each of the season's four productions runs throughout the summer. Tickets are $30/adult and $15/children age 14 and under. Season tickets also are available. A full schedule is available at http://www.rockymountainrep.com or 970-627-3421.
Grand County, Colo.
Located 67 miles west of Denver, Grand County is home to wide-open spaces, breathtaking mountain scenery and authentic old-west towns. Outdoor recreational activities include golf, boating, fishing, biking, hiking, fishing, hunting and horseback riding.
The area features more than 600 miles of mapped and marked trails, one national park, one national forest, two wilderness areas, two national scenic byways, two major ski resorts, five world-class dude ranches and four mountain golf courses. Grand County's extensive water network includes Colorado's largest natural lake, 1,000 miles of streams, 1,000 acres of high-mountain lakes and 11,000 acres of reservoirs.
# # #