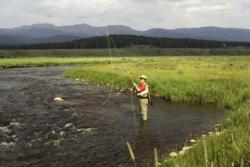 Granby, Colo. (PRWEB) August 06, 2012
Just 60 miles from Denver is a special place where the best of Colorado is yours for the taking – without the crowds or long drives. Whether it's a day trip or a two-week adventure, there's something for everyone -- all year 'round -- in Grand County.
Grand County just released its Top 10 Reasons to Visit List – including some off-the-beaten path attractions.
1. Colorado River
The headwaters and tributaries of the Colorado River are in Grand County, so there are serious fly-fishing opportunities around every bend. A 20-mile stretch of the Colorado from its confluence with the Fraser River through Byers Canyon west of Hot Sulphur Springs has been given "Gold Medal" designation by the Colorado Wildlife Commission. In July 2012 a stretch of the Fraser River running through the town of Fraser was dedicated to the late President Eisenhower, who spent many days fishing near his "Western White House." There are also several rafting and kayaking opportunities on the River, with guides located throughout the county.
2. Rocky Mountain National Park
As one of the country's busiest national parks (there were 3.1 million visitors in 2010) Rocky Mountain National Park can sometimes feel a little crowded. Savvy visitors know to base their visit on the "quiet side" of the park, in the village of Grand Lake. One-tenth the size of the crowd means ten times the experience for hiking, wildlife viewing, fishing and camping. While you're in Grand Lake be sure to stroll its quaint boardwalk for shopping and dining.
3. Winter Park-Fraser Valley
Visit Winter Park and the Fraser Valley just about any weekend during the summer, and you're likely to find a party going on. There's music (Blues from the Top, Winter Park Music Festival, Winter Park Jazz Festival), art (Alpine Art Affair, Winter Park Craft Fair), and plenty of food and drink (Winter Park Beer Festival, Famous Flamethrowers High Altitude Chili Cook-off). Kid-friendly festivals include the Winter Park Fun Family Fest, skatepark camps at Hideaway Park and the Lance Gutersohn 4th of July Celebration and fireworks in Fraser.
4. Taste of the Rockies
If you're old enough to remember bubble gum cigars, licorice allsorts, or Mary Janes peanut butter taffy, you'll want to drop by Taste of the Rockies in Hot Sulphur Springs. Even if you don't remember those classic candies, you'll find lots of other goodies like chocolate-covered cashews, green gummy army men, and their signature Rock Candy that looks like polished pebbles from the nearby Colorado River and tastes like heaven.
5. Good, Local Eats
Grand County is cattle country, so it's no surprise to find great beef here. For more than 35 years Kremmling's Middle Park Meat Co. has offered USDA choice aged Angus beef as well as poultry, pork, seafood and lamb. (Their apple-cured pork chops are a local favorite.) And since they also carry jerky, deli items, and smoked items to go, it's also a great place to pick up something for a hike or river trip.
6. Alpaca Farm
Cattle aren't the only livestock you'll see up here. Drive past the Lonesome Stone Natural Fiber Mill just outside Granby and the first thing you notice is the large herd of graceful alpaca grazing in the field. The flock provides fiber that this family-owned-and-operated mill processes, spins and dyes into luxury yarn. Step into the large mill building on the property to shop for yarn, and knitted items; if they're not too busy you might be offered a behind-the-scenes tour.
7. Rodeo
Every Saturday evening during July and August the High Country Stampede Rodeo in Fraser presents some of the best rodeo action around: barrel racing, bull riding, team roping, pole bending, steer wrestling and more. Even the kids can get involved with Mutton Bustin' or the Calf Scramble. Elsewhere in the county, small-town rodeo action is on display at Granby's Flying Heels Arena and the annual Middle Park Fair and Rodeo in Kremmling.
8. Granby Ranch
Granby Ranch in Granby is a year-round resort with a variety of fun to choose from. Skiing (Nordic and alpine) and snowboarding are available for skiers and riders of all abilities in an intimate, family-friendly setting. After the snow melts, come for the excellent mountain style golf course and fly-fishing on the nearby Fraser River. Granby Ranch is home to noted summer mountain bike racing events, including the Triple DHip downhill stage race and the Enduro Race Series. The resort's excellent system of hiking and mountain biking trails also link up with the Fraser-to-Granby trail.
9. Theater
It's not all about the outdoors up here! Every summer from June through September Grand Lake's Rocky Mountain Repertory Theater presents live nightly performances of outstanding professional musical theater. Recent seasons have included such favorites as "Guys and Dolls," "Anything Goes," "Suessical the Musical," and a Patsy Cline retrospective. Reservations are highly recommended, since these shows regularly sell out.
10. Winter Park Resort
Technically a city park for the city of Denver, Winter Park Resort has been a favorite recreation destination for nearly 70 years. During the winter, choose from five unique systems covering more than 3,000 skiable acres. After the snow melts this translates into 40 miles of lift-accessible trails on North America's fastest-growing system, Trestle Bike Park. Other summer fun at the village base area includes Colorado's longest Alpine Slide, climbing walls, mini-golf, and scenic chairlift rides.
Grand County, Colo. (http://www.visitgrandcounty.com)
Located 67 miles west of Denver, Grand County is home to wide-open spaces, breathtaking mountain scenery and authentic old-west towns. Outdoor recreational activities include golf, boating, fishing, biking, hiking, fishing, hunting and horseback riding.