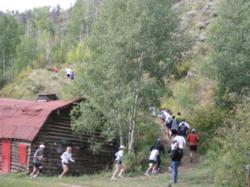 Granby, Colo. (PRWEB) May 16, 2012
The third annual "Run the Ranches" trail running series will take place in Grand County, Colo., on Sept. 16, Sept. 30 and Oct 14.
The series features trail runs at three different scenic ranches. Each ranch and its community in the county – located 70 miles west of Denver – will host a short run (3-5 miles) and a longer run (7-10 miles).
The trail series benefits Headwaters Trails Alliance, a nonprofit advocacy organization for trails in Grand County. The proceeds will help the alliance provide high-quality trails linking towns and recreational areas, with secondary trail systems connecting historical, cultural and recreational sites near the communities of Grand County.
All races begin at 10 a.m., with packet pick-up and late registration beginning at 8:30 a.m. the day of the race. Pre-registration fee is $20/adult for each race, or $10 for children age 6-12 (free for ages 5 and under). A late fee of $10/person will be added to any registration fee after 11:59 a.m. on the Saturday before each race. Fees include post-race refreshments and awards for top finishers. A commemorative performance shirt is available for purchase on a first-come, first-served basis. Online registration is available at http://www.RunReg.com or at http://www.headwaterstrails.org/events.
Ranch and run specifics, and dates, are as follows. Volunteers will man all race courses.
Sunday, Sept. 16 – Devil's Thumb Ranch
The 5,000-acre Devil's Thumb Ranch is an award-winning, environmentally friendly year-round ranch resort and spa offering rustically upscale accommodations, fine dining and an array of outdoor and wilderness recreation activities. Devil's Thumb has received the Editor's Choice Award for Best Green Facility from Colorado Meetings + Events Magazine. Runners can choose a 3-mile or 7.5-mile run through the fall foliage of the Ranch Creek Valley.
Sunday, Sept. 30 – Granby Ranch
Spanning 5,000 acres of high alpine landscape, Granby Ranchfeatures an expansive network of trails, a 450-acre wildlife conservation area, hundreds of acres of open space, miles of forestland, and the Fraser River corridor. Runners can choose a 2.4-mile or 7.6-mile run.
Sunday, Oct. 14 – C Lazy U Ranch
Nestled in a private valley with nearly 8,600 acres of wilderness and miles of private stream, the upscale, family-style ranch is known for its rustic elegance, legendary cuisine and signature "5-Spur Service." Runners can choose a 5-mile or 9.5-mile run.
Grand County, Colo. (http://www.grand-county.com)
Located 67 miles west of Denver, Grand County is home to wide-open spaces, breathtaking mountain scenery and authentic old-west towns. Outdoor recreational activities include golf, boating, fishing, biking, hiking, fishing, hunting and horseback riding.
The area features more than 600 miles of mapped and marked trails, one national park, one national forest, three wilderness areas, two national scenic byways, two major ski resorts, four world-class dude ranches and four mountain golf courses. Grand County's extensive water network includes Colorado's largest natural lake, 1,000 miles of streams, 1,000 acres of high-mountain lakes and 11,000 acres of reservoirs.