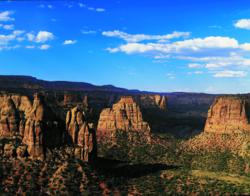 Grand Junction, CO (Vocus/PRWEB) April 04, 2011
Turning 100 is a major event in most circles, and for one of Colorado's greatest natural treasures, that event happens in May.
Colorado National Monument (CNM), the national treasure that preserves one of the grand landscapes of the American West, will kick off its centennial summer with a 100th anniversary celebration and rededication ceremony Sat., May 21, 10:30 a.m. - 12 noon, at the Book Cliffs View. Refreshments will follow the ceremony for all attendees.
CNM became the United States' 15th national monument in May, 1911. As part of the National Park Service, and located near the city of Grand Junction, in the far western part of Colorado, CNM is a semi-desert land that sits high on the Colorado Plateau. With 32 square miles (20,500 acres), CNM's spectacular canyons cut deep into sandstone and granite–gneiss–schist rock formations. Towering monoliths exist within a vast plateau-and-canyon panorama, amid sheer-walled, red rock canyons and colorful formations.
Along with the anniversary celebration, CNM's other summer centennial events include:

July 4 – Fourth of July Celebration: Climbers will ascend a 450-foot monolith to place the U.S. flag on top.
August 28 – Centennial Tour of the Valley: The weekend of cycling events, sponsored by Community Hospital, offers road or mountain biking routes. Longer rides travel through the monument, closed to motorized traffic for the event.
August 28, 8 a.m.-12 noon – Walk Through Time: Fourteen miles of the monument's famed Rim Rock Drive will be open to the public for walking, jogging or cycling – without motorized traffic from 8 a.m. to 12 noon. The walk also will be open to dogs on who stay on a leash and paved areas at all times.
CNM is home to a wide range of wildlife, including red-tailed hawks, golden eagles, ravens, jays, desert bighorn sheep and coyotes. Activities include hiking, horseback riding, road bicycling, and scenic drives. A visitor center on the west side contains a natural history museum and gift shop. CNM's main road, Rim Rock Drive, and trails offer magnificent views. Monument Canyon, which runs the width of the park, includes rock formations such as Independence Monument, the Kissing Couple and Coke Ovens.
Daily entrance fees for Colorado National Monument are $5/vehicle and $3/cyclist or pedestrian between Jan. 1 and Feb. 28. During other periods, and for all passes covering two-seven consecutive days, the cost is $7/vehicle, and $4/cyclist or pedestrian.
About Grand Junction
Nestled near 11,000-foot Grand Mesa and the 7,500-foot Book Cliffs, Grand Junction is the largest city in western Colorado. At an altitude of 4,586 feet, warm summers and moderate spring, fall and winter seasons allow for year-round golf, hiking and biking. Boasting more than 275 days of sunshine annually, Grand Junction recently was named one of the eight sunniest cities in the United States by TourismReview.com.
Among Grand Junction's spectacular red cliffs and winding canyons are the Grand Mesa, the world's largest flat-topped mountain, the Colorado National Monument, Bookcliff Wild Horse Area, two national scenic byways and five golf courses. Grand Junction lies in the heart of the Colorado-Utah Dinosaur Diamond. The area also is home to Colorado's wine country, with nearly 30 vineyards and wineries.
###