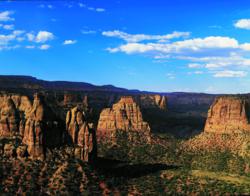 Grand Junction, Colo. (PRWEB) May 26, 2011
As the economy recovers from the economic downtown, cities in many parts of the country are starting to see improvements. Grand Junction, western Colorado's largest city, is experiencing growth in both the private and public section, according to the Grand Junction Visitor and Convention Bureau.
Among the new developments in 2011 are:
1. Additional air service – Continental Airlines began twice-a-day non-stop service between Grand Junction and Houston (George Bush Houston Intercontinental Airport) in May.
2. Air tours – Gateway Air Tours has opened for business, providing scenic, adventure and customized air tours of western Colorado and eastern Utah.
3. Wineries – Gubbini Winery and Maison LaBelle Vie Winery have opened in Palisade, bringing the total of wineries in the Grand Junction area to 19.
4. Museum and event centers – The Allen Autos Museum and Event Center opened, housing Tammy Allen's personal collection of 80 cars. The collection includes two Mustangs owned by Sonny and Cher, a Rolls Royce owned by Nicholas Cage, Mercedes owned by Zsa Zsa Gabor and Evel Knievel, and a personal limousine of Bruce Willis.
Gateway Canyons Resort recently opened the Palisade Event Center, The Spa and Entrada Restaurant. The Palisade Event Center houses five new meeting rooms, including a theater and media lab.
5. Hotel additions and improvements – Grand Junction will welcome the addition of two hotels this June. The Candlewood Suites will add 97 sleeping rooms, while Marriott's Springhill Suites will add 100 sleeping rooms and one meeting room. In addition, the Quality Inn has added a fitness room, and La Quinta Inn and Suites has completed a significant lobby renovation and sleeping room upgrade project.
6. Downtown improvements – The City of Grand Junction is replacing water lines and making storm drainage improvements, as well as providing additional area for the expansion of Art on the Corner, Colorado's largest and most diverse outdoor sculpture display. Total project cost is estimated at $5.16 million.
7. Golf course improvements – The 18-hole Tiara Rado public course, a member of the Audubon Cooperative Sanctuary program, has completed a $3.5 million investment. A new irrigation system provides greater water storage, more efficient watering and the addition of nearly 400 yards from the back tees.
8. 100-Year Anniversary – Colorado National Monument, the national treasure that preserves one of the grand landscapes of the American West, celebrates its 100th anniversary this year. Special events include a Fourth of July celebration, "walk through time," classic car tour, centennial band concert and holiday open house.
Grand Junction
Nestled near 11,000-foot Grand Mesa and the 7,500-foot Book Cliffs, Grand Junction is the largest city in western Colorado. At an altitude of 4,586 feet, warm summers and moderate spring, fall and winter seasons allow for year-round golf, hiking and biking. Boasting more than 275 days of sunshine annually, Grand Junction recently was named one of the eight sunniest cities in the United States by TourismReview.com.
Among Grand Junction's spectacular red cliffs and winding canyons are the Grand Mesa, the world's largest flat-topped mountain, the Colorado National Monument, Bookcliff Wild Horse Area, two national scenic byways and five golf courses. Grand Junction lies in the heart of the Colorado-Utah Dinosaur Diamond. The area also is home to Colorado's wine country, with nearly 30 vineyards and wineries.
###