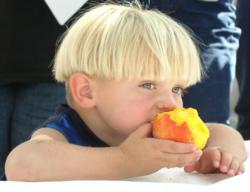 Grand Junction, Colo. (PRWEB) July 30, 2012
With growers across Colorado reporting early harvests, the juicy, stand-out western slope peaches from the Grand Junction area now are on their way to stores and shelves. Visitors may take advantage of the bounty of fruit and savings by booking one of nine "Bushel of Summer Savings" lodging packages, valid Aug. 1-31. The packages start at less than $65. For a complete list of lodging packages, visit Grand Junction deals.
Peach growers have started picking ripening fruit about three weeks ahead of when they typically would. Having already started with cherries and apricots, they now are harvesting the peaches. The harvest begins with varieties such as Redhaven, a semi-freestone fruit, and July Elberta, popular for canning. Next up will be freestone varieties including Suncrest, Cresthaven, and Flavor Crest. The season will wrap up with more varieties, such as standard Elberta, Redskin, and Hales peaches, which also are ideal for canning and freezing. Ripe peaches can be stored for up to three weeks in the refrigerator.
Grand Junction-Palisade peaches will be available at most major supermarkets and health-food chains throughout Colorado. To go to the source, visitors can find fresh-picked, just-off-the-tree peaches, peach products, and other local produce at roadside stands and orchards throughout the Grand Junction area.
Peaches will also make appearances at events and locations throughout the western slope over the next few months.
Palisade Peach Festival – The Aug. 16-19 festival celebrates the peach, with more than 100 food, art and craft vendors, live musical entertainment, kids' activities and culinary events. The old-fashioned event will feature a five-mile run, crowning of the Peach Queen, street dance, parade, car show, and fireworks. Peaches will also highlight the pancake breakfast, ice cream social, and peach recipe contest. One day tickets start at $5/adult, $3/children ages 6-11.
Tours – Nearly a dozen orchards offer tours for a close-up view of fruit varieties, organic growing, picking, community- supported agriculture, selection, packing, distribution and marketing.
Farmers' market – In Grand Junction, 5,000 people come to the ANB Bank Downtown Farmers' Market each week. Taking place Thursday evening through Sept. 20, the market offers seasonal fruits and vegetables, and handcrafted and specialty items from more than 50 vendors. Attendees can connect to the people who grew the food and support local growers.
Wineries – Colorado's wine country features over 20 wineries and vineyards in the Grand Valley AVA (American Viticultural Area). The wineries produce almost every type of wine, including many peach wines. All wineries are small and personal, with free tastings and winery tours. Peach wines also will make appearances at the Sept. 13-16 Colorado Mountain Winefest in nearby Palisade.
Bushel of Summer Savings - In the heart of summer, Colorado Wine Country becomes the epicenter of fresh, outdoor living. The many roadside fruit and produce stands overflow with plums, apricots, cherries, lavender, tomatoes, peppers and of course world-famous peaches! Pick a "Bushel of Summer Savings" lodging package in Grand Junction and upon check-in receive a bushel of savings to local fruit/produce stands. Many packages have added in value by including discounts on restaurants and drinks, free breakfasts and more. http://www.visitgrandjunction.com/deals.
About Grand Junction (http://www.visitgrandjunction.com)
Nestled near 11,000-foot Grand Mesa and the 7,500-foot Book Cliffs, Grand Junction is the largest city in western Colorado. At an altitude of 4,586 feet, warm summers and moderate spring, fall and winter seasons allow for year-round golf, hiking and biking. Boasting more than 275 days of sunshine annually, Grand Junction recently was named one of the eight sunniest cities in the United States by TourismReview.com. Among Grand Junction's spectacular red cliffs and winding canyons are the Grand Mesa, the world's largest flat-topped mountain, the Colorado National Monument, Bookcliff Wild Horse Area, two national scenic byways and five golf courses. Grand Junction lies in the heart of the Colorado-Utah Dinosaur Diamond. The area also is home to Colorado's wine country, with nearly 30 vineyards and wineries.