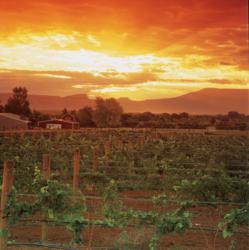 Colorado Wine Country isn't just about wine. It's a unique blend of lifestyle, activities, food and people found nowhere else in the state.
Grand Junction, CO (PRWEB) October 02, 2012
The Grand Junction Visitor and Convention Bureau (GJVCB) has just launched a new website and published a new eBook to help visitors visualize, research and plan their trip to Colorado Wine Country and beyond.
The revamped website – http://www.VisitGrandJunction.com – features more than 100 articles that provide resources to both visitors and locals. The visual appeal of the site has been amped up with more than 300 photos illustrating the beauty of the greater Grand Junction area. The site features an integrated "related listing" search feature that automatically lists and maps nearby businesses – such as restaurants – that might be of interest to a vacationer searching for a hotel, for instance.
That same feature is incorporated into the improved events calendar, which also allows sorting by type, date or location. Deals and lodging packages are prominently linked from the homepage to allow visitors to take advantage of specials and promotions. Additionally, group and meeting planners can click on a tab from the home screen to submit an RFP directly through the site.
According to Mistalynn Meyeraan, GJVCB Marketing & Public Relations Coordinator, the site's innovative content tagging system that automatically populates pages with information based on visitors' interests and location is one of the most novel features of the website. "For example," says Meyeraan, "a visitor who lands on the 'Wine Country' page will automatically be shown related articles, photos and maps, as well as listings for wine-related events, Wine Country businesses, etc. to facilitate as smooth a process as possible for their vacation planning." Similarly, says Meyeraan, if a visitor is exploring content related to downtown Grand Junction, they will be shown content specifically about that area.
Additionally, the bureau has published an eBook called "23 Ideas to Bring Wine Country Into Your Life." The eBook is available for download via iTunes here http://bit.ly/UWnUdj for iBook, iPad or iPhone. Additional mobile versions will be available soon. The eBook features content such as tips for wine tasting, where to find the best local produce, favorite seasonal recipes, special events, Grand Junction's art scene, and outdoor activities.
Chris Clemens, President of CCT Advertising, the company that produced the eBook for the VCB, says it is a great example of how destination marketers are placing more emphasis on developing quality content. "Colorado Wine Country knows it has a lot to offer travelers, but what really sets it apart is its special way of life." According to Clemens, "Colorado Wine Country isn't just about wine. It's a unique blend of lifestyle, activities, food and people found nowhere else in the state. If you truly want other people to experience a little bit of that magic, a traditional brochure just doesn't do it justice."
Colorado Wine Country is home to 21 vineyards and wineries within easy driving distance of Grand Junction, and nearly all of them offer tastings and tours.
About Grand Junction (http://www.visitgrandjunction.com)
Nestled near 11,000-foot Grand Mesa and the 7,500-foot Book Cliffs, Grand Junction is the largest city in western Colorado. At an altitude of 4,586 feet, warm summers and moderate spring, fall and winter seasons allow for year-round golf, hiking and biking. Boasting more than 275 days of sunshine annually, Grand Junction recently was named one of the eight sunniest cities in the United States by TourismReview.com. Among Grand Junction's spectacular red cliffs and winding canyons are the Grand Mesa, the world's largest flat-topped mountain, the Colorado National Monument, Bookcliff Wild Horse Area, two national scenic byways and five golf courses. Grand Junction lies in the heart of the Colorado-Utah Dinosaur Diamond. The area also is home to Colorado's wine country, with nearly 30 vineyards and wineries.