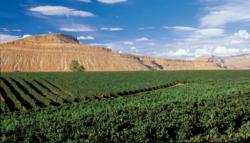 Grand Junction, Colo. (Vocus/PRWEB) March 15, 2011
Colorado's wine country will kick off its 2011 "taste of adventure" with three premiere wine-tasting events this spring.
With excellent soil and temperate climate combining to produce quality grapes, the Grand Junction area is western Colorado is prime wine country. Visitors can explore nearly 30 vineyards and wineries by car, limo or bicycle. Small and personal, most wineries have tours or tasting rooms, and visitors frequently can meet with the owner or vintner directly.
Grand Valley Winery Association Spring Barrel Tasting Weekends: April 30-May 1 and May 14-15
The annual Spring Barrel Tasting weekends invite participants to learn about winemaking and aging, with 8 Grand Valley wineries pairing gourmet foods with featured wines.
Ticket purchasers receive random assignments to their first winery, where each receives a Weekend Passport, map and souvenir wine glass. Attendees then visit each winery on their own schedule, receive "behind-the-scenes" winery and vineyard tours, taste wines that are readily available to the general public, and participate in barrel tasting. The Passport also serves as a coupon for a 15 percent discount for wine purchases during the weekend.
Tickets are $60 per person. Tickets are limited to 400 people per event weekend. For more information, contact Two Rivers Winery at 970-255-1471 or visit http://www.tworiverswinery.com.
Viva el Vino: May 7, 6:30-9:30 p.m.
The wine-tasting event features more than 15 booths (along with a beer booth) and a large silent auction benefiting local community organizations. Sponsored by the Junior Service League of Grand Junction, Viva el Vino will take place at the Two Rivers Convention Center in Grand Junction. Tickets are $60 per person. For more information, call 970-712-4935 or visit http://www.jslgj.com.
Grand Junction
Nestled near 11,000-foot Grand Mesa and the 7,500-foot Book Cliffs, Grand Junction is the largest city in western Colorado. At an altitude of 4,586 feet, warm summers and moderate spring, fall and winter seasons allow for year-round golf, hiking and biking. Boasting more than 275 days of sunshine annually, Grand Junction recently was named one of the eight sunniest cities in the United States by TourismReview.com.
Among Grand Junction's spectacular red cliffs and winding canyons are the Grand Mesa, the world's largest flat-topped mountain, the Colorado National Monument, Bookcliff Wild Horse Area, two national scenic byways and five golf courses. Grand Junction lies in the heart of the Colorado-Utah Dinosaur Diamond. The area also is home to Colorado's wine country, with nearly 30 vineyards and wineries.
###