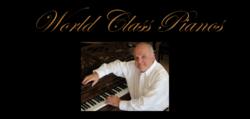 Selling pianos was and remains an intensely personal business where attention to the customer and continual follow-up are critical to success
Burlingame, CA (PRWEB) December 22, 2011
In honor of Joe Brattesani's 52nd anniversary in the piano business, San Francisco music store, World Class Pianos, located at 1471 Burlingame Ave., Burlingame, is offering outstanding prices (sale prices by piano are on flyer) on a variety of pianos, such as digital pianos and player pianos.
"Selling pianos was and remains an intensely personal business where attention to the customer and continual follow-up are critical to success. It's not the one thing you do to make 100 sales, it's the 100 things you do to make one sale," Joe Brattesani of World Class Pianos said.
Joe Brattesani and the staff of World Class Pianos are offering lower prices on pianos. Joe Brattesani's years of expertise, product knowledge and his dedication to excellent customer service have helped keep the classical music industry alive today.
Recipient of the acclaimed "Bosendorfer Piano LifeTime Achievement Award 2006," Joe Brattesani was recognized for his contribution in the planning and strategizing of new models, along with meeting sales goals above and beyond expectations.
World Class Pianos has served San Francisco for many years and has developed a reputation for providing high-quality pianos at affordable prices.
For more information about the 52nd Anniversary Sale or World Class Pianos, call 651-340-8088, view World Class Pianos on the web at http://www.worldclasspianos.com or visit the store at 1471 Burlingame Ave. Burlingame, CA 94010.
About World Class Pianos
World Class Pianos, a San Francisco Bay Area music store located at 1471 Burlingame Ave. in Burlingame, offers musical expertise and high-quality pianos at affordable prices. World Class Pianos provides excellent customer service and represents quality pianos and digital pianos that are recognized around the world. It also features a variety of pianos, such as electric pianos, digital pianos, grand pianos, play pianos and piano keyboards.
###