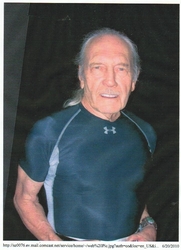 "Stay moving to arrive at your 'GOLDEN YEARS' with stamina and flexibility"
Denver, CO (PRWEB) June 24, 2010
After Retirement, Jack decided to prove that anyone wanting to increase their stamina and build strength, reverse aging could and HE IS living proof his 4-Minute Exercise Program WORKS!!!
Great Grand Daddy Jack's wonderful Exercise Program and more information can be found at Jack's website: http://www.greatgranddaddy.com Download the information FREE! You can even click to watch Jack as he performs his 4 minute Exercise Program.
Jack's marvelous 4-Minute Exercise Program is based on the revelation "Growing Old" doesn't need to be hard or painful, strength, agility and stamina with youthful physical well being and productive enjoyable longevity is what Jack's Fabulous Exercise Probram is all about...
What others are saying: "Great Grand Daddy Jack is a perfect example of what a simple daily 4-minute exercise program can do for our elderly population. Jack is 93 and is an excellent physical specimen. His program has helped him maintain the high energy, flexability and strength that are rarely seen in a much younger man. His emphasis is on toning and strengthening the major muscle groups necessary for everyday movements. The only equipment necessary is a clock with a visible second hand, a solid chair, and 4 minutes of time to dedicate to the program daily. I strongly endorse his program." -Dr. Frank Powell, Ed. D. Professor Emeritus of Human Performance, Sport and Leisure...'74 years young and teaching tennis and swimming at a major college in Denver, Colorado.
Another observer had this to say: "I've known Jack and his family since 1987...Jack has become an expert at remaining active, he works for hours in the garden, always has time for his many other interests and remains very able in spite of his advancing years. He is truly an amazing man...as the old story goes 'Jack of all trades', I've learned over the years-this Jack is a 'Master of Many'...as he teaches us all many lessons of life along the way...Most importantly that we can all live life to the fullest by preparing ourselves/our body's to remain limber, pain-free, to be active with stamina and have the staying power necessary to keep going and not get tired...while maintaining excellent health. Jack teaches us through his 4 minute Exercise Program how to properly use and work with our aging bodies, to help us add more quality years as we live a lot longer, becoming more youthful as we age! I have witnessed countless times when Jack found himself in the position of having to show his Driver's License to prove his age! Great Grand Daddy Jack is living proof his teachings and exercise program works! I highly recommend his program for people of all ages!" - Mary A. Thomas, - Grand Master Healer, Spiritual Teacher, Author The Essence Of Healing http://www.TheWorldsHealingCenter.us
Great Grand Daddy Jack's 4-Minute Exercise Program Information can be downloaded free at http://www.greatgranddaddy.com , where you can also click to watch Jack perform his 4-Minute Exercise Program...
*Note: As with any exercise program-check with your Health Care Professional FIRST, to make sure this program is right for you!
Contact Information:
Jack A. Schulz
P.O. Box 27958
Denver, CO 80227-0958
Phone: 720-879-8744
###