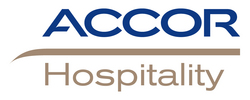 www.singaporebrides.com/temp/grand-mercure-roxy-081009.htm
Singapore (PRWEB) October 12, 2009
Grand Mercure Roxy Hotel in Singapore, managed by Accor - a European leader in hotels and tourism, will be holding a wedding open house on 24 October 2009, 2pm to 5pm to showcase its wedding offerings.
Major draws of this event are the attractive perks couples enjoy if they sign wedding dinner or solemnization packages with the hotel during the open house.
One of them includes a S$1,088 nett off the total wedding dinner package for couples who book a minimum of 15 tables with payment by any DBS or POSB cards. They, together with those couples who confirm their solemnization packages, will be given a chance to participate in a draw to be the one lucky couple to win a free wedding dinner or solemnization.*
Grand Mercure Roxy Hotel provides an attractive option for a wedding or solemnization venue away from the urban jungle. A 'gem' nestled in the heart of heritage Katong on Singapore's East Coast,
the hotel's unique Mediterranean-style poolside and sophisticated ballroom settings, together with special and affordable packages, a large variety of wedding favors and choice of unique themes - Garden of Eden, Oriental Charms and Glamour Glitz - provide a memorable experience for couples fulfilling their dreams of a blissful wedding. For details of the wedding themes, please visit "http://www.grandmercureroxy.com.sg/wedding_themes.html".
A free complete makeover will be given at the event by the bridal boutique, X-Zen Studio to five lucky couples who register for the wedding open house. In addition, an experienced counselor from EMCC, a full member of the National Council of Social Service (NCSS) and an approved Institution of Public Character (IPC), will reveal the secrets of a successful marriage at the open house.
Couples who want to attend the Grand Mercure Roxy Wedding Open House can register at "http://www.singaporebrides.com/temp/grand-mercure-roxy-081009.htm" by 17 October 2009. All registered couples will receive a complimentary photo session and printout at the event. Admission is free for any DBS or POSB card holders.
For more information about the event and the perks, please visit "http://www.grandmercureroxy.com.sg/wedding_open_house".
*Terms & conditions apply. Only valid for bookings made during the wedding open house. Lucky draw is only applicable for couples who book their wedding dinner (minimum 15 tables) or solemnization (confirmed and guaranteed) packages during the open house on 24 October 2009, for wedding dinners or solemnization to be held between January and June 2010. The draw will only take place if there are a minimum of 15 of these bookings confirmed during the event. Not applicable with other promotions or discounts.
About Grand Mercure Roxy Hotel
Conveniently located just 15 minutes away from Changi International Airport, the family-friendly Grand Mercure Roxy Hotel is nestled in heritage Katong, a historical area on Singapore's East Coast near the city. A short walk away is East Coast Park with attractive beaches and facilities popular with families. Opposite the hotel is Parkway Parade Shopping Centre, a one-stop shopping destination that caters to every family or business traveler's needs. The hotel is within easy access to Singapore's popular shopping hubs in Suntec City and Orchard Road and VivoCity at HarbourFront; Singapore Flyer and the F1 race area at Marina Bay. The hotel has 558 guest rooms and suites, choice of four dining outlets, 10 meeting rooms, a wellness spa, outdoor swimming pool and a well-equipped fitness center. Grand Mercure Roxy Hotel is managed by Accor, a major global group and European leader in hotels.
About Accor
Accor, a major global group and the European leader in hotels, as well as the global leader in services to corporate clients and public institutions, operates in nearly 100 countries with 150,000 employees. It offers to its clients over 40 years of expertise in two core businesses:

Hotels, with the Sofitel, Pullman, MGallery, Novotel, Mercure, Suitehotel, ibis, all seasons, Etap Hotel, Formule 1 and Motel 6 brands, representing 4,000 hotels and nearly 500,000 rooms in 90 countries, as well as strategically related activities, such as Lenôtre;
Services, with 30 million people in 40 countries benefiting from Accor Services products in employee and public benefits, rewards and loyalty, and expense management.
###