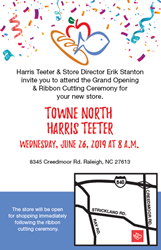 MATTHEWS, N.C. (PRWEB) June 12, 2019
Harris Teeter is proud to welcome shoppers to its Towne North location on Wednesday, June 26, 2019 at 8 a.m. as the company celebrates its grand opening with a ribbon cutting ceremony.
This location is one of eight former Kroger stores purchased by Harris Teeter in 2018. The store will feature signature Harris Teeter amenities including: store made pizza; hot foods bar; sub shop; salad bar; trail mix bar; fresh sushi; hot foods bar; ExpressLane Online Shopping; and a pharmacy.
"Harris Teeter is excited to introduce shoppers to its newest Raleigh location, and we look forward to providing an incredible place to shop" said Danna Robinson, communication manager for Harris Teeter.
In each of its stores, Harris Teeter strives to offer customers an excellent shopping experience, which begins with customer service and features high-quality products, variety and selection. Harris Teeter also works to be a true community partner by supporting local schools and youth sports organizations, among other non-profit organizations.
Fast Facts
Store Address:
Towne North Shopping Center
8345 Creedmoor Road
Raleigh, NC 27613
Square Footage: 54,389
Grand Opening Date: Wednesday, June 26, 2019
Grand Opening Time: 8 a.m., ribbon cutting, store open immediately following
Check-Out Lanes: 6 checkouts and 6 express checkouts
Store Hours: 5 a.m. to midnight
Store Features and Departments
Full-Service Butchers Market with Rancher Beef, HT Reserve Angus Beef & USDA Certified Very Tender Beef • Fresh Store Made Sausage, Burgers, & Kabobs • Full-service Fishermans Market • Full-service Floral Department • Farmers Market Produce • Trail Mix Bar • Salad Bar • Fresh Cut Fruit • Full-Service Fresh Foods Market Deli/Bakery • Starbucks • Sushi • Store Made Pizza • Sub Shop • Hot Foods Bar • Soup Bar • Indoor Seating • Beer & Wine • Build Your Own 6-Pack • Pharmacy • ExpressLane Online Shopping • Double Coupons • Club 60 Discount • Red Box DVD Rental Kiosk • ATM
Harris Teeter, with headquarters in Matthews, N.C., is a wholly-owned subsidiary of The Kroger Co. (NYSE: KR). The regional grocery chain employs approximately 30,000 associates and operates stores in North Carolina, South Carolina, Virginia, Georgia, Maryland, Delaware, Florida and the District of Columbia.