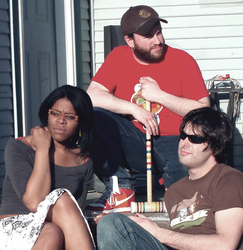 Our creativity is expanding with every new episode we do
Bellingham, WA (PRWEB) May 6, 2008
In Gamespeek Episode 82, the hosts give a short overview of what the player can do in Grand Theft Auto IV, review Professor Layton and the Curious Village, give news on Rock Band DLC, Okami for the Wii, Burnout Paradise and the upcoming Spore Creature Creator.
"Our creativity is expanding with every new episode we do," said Gamespeek Co-Host Lauren Miller. "Connecting segments like Winners and Losers to the GTA IV first impression was extremely fun to do."
Keeping with a similar format the show features Gamespeek's signature segment 'Juicy Tidbits of Fun' aka JToFs (Jay-tawfs). This week's JToFs feature the first Rock Band DLC album Judas Priest's Screaming for Vengeance .
Other news topics include:
Spore's creature creator release date and info
Okami Wii Goofs
Criterion's upcoming updates for Burnout Paradise (PS3/Xbox360)
"I think we have interesting chemistry as a group and the video format will allow us to really show off who we are," said Gamespeek Co-Host Aaron Apple. "And the 10-minute length is much more appealing than the 40 minute old shows, especially to busy gamers these days."
Intro music for this episode is "That Heart Isn't Very Flattering" by BleepHeartBleep.
About Gamespeek:
Gamespeek (formerly known as Pacific Standard Time) is a video game podcast that comes out every week. The podcast brings listeners the latest gaming news, reviews, previews, release dates and more. Each week a different video game related band is featured during the podcast.
Hosts Aaron Apple, Chris Palmer and Lauren Miller all reside in the Pacific Northwest and have been Podcasting since March 2006. Aaron and Lauren have covered the video game industry trade show E3 two years in a row and the three of them hope to travel to Los Angeles this October for the new E For All Expo. Gamespeek can be found on iTunes by clicking here.
Contact:
Aaron Apple 360-540-0831
Lauren Miller 206-963-6951
Chris Palmer 360-466-8316
Hosts
http://www.gamespeek.com
gamespeek(at)gmail.com
###