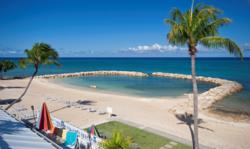 This restored section of Seven Mile Beach and new swimming cove has been a huge success and Sunset Cove guests continue to rave about it!
(PRWEB) June 12, 2013
When you think of the Cayman Islands in the Caribbean, you think of a pristine beach that goes on for miles, hence the name Seven Mile Beach. For owners and guests at the Sunset Cove Condominiums, formerly known as the Treasure Island Condominiums, that hasn't always been the case. Over the years, the coral reef located in front of Sunset Cove, great for snorkeling enthusiasts, offset a less than desirable beach.
When the property was originally built, the developers dug out the iron shore in an attempt to make a swimming area. While that seemed like a good idea at the time, over the years the lack of iron shore eliminated the natural protection against beach erosion. The two groynes made out of large rocks contained an opening to the sea in the middle, which allowed large waves to hit the beach and pull the sand out to sea. Year after year, the condo owners tried to replace the lost sand, but doing so was becoming quite costly. So the condo owners at Sunset Cove got together and decided to make the financial commitment to provide guests witha beach that visitors of the Cayman Islands deserved.
The first step of this major project was taken in the summer of 2009 when Dr. Sorenson, a renowned beach restoration project consultant in the Caribbean, was contacted. After his research and guidance, a permit was applied for from the Cayman Islands Department of Environment. This project was looked on very favorably by the department because of the extensive shoreline erosion. In May of 2010, a permit was issued. The work then began with shaping the large rocks to recreate the groynes with an overlap in the middle this time around to prevent large waves from coming into the newly created swimming cove and washing away the sand. After the shaping of the rocks and creation of the groynes was completed, the final step was adding 1000 cubic yards of fresh new sand to the beach.
This $700,000 project at the Sunset Cove Condominiums was completed in the fall of 2010. Almost three years later now and the beach is still intact and inviting as ever. With the extensive research that went into this landmark project, it is expected to last for many years. By coupling this beautiful new beach with the snorkeling reef directly in front of the property, Sunset Cove has become one of the most desirable beach properties for vacationers in world-famous Seven Mile Beach.