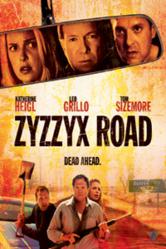 President / CEO of Grand Entertainment Group David Rand states "We are looking forward to long and prosperous relationships with both GoDigtal and MouseTrap Films."
Los Angeles, CA (PRWEB) July 30, 2012
The DVD release of "Zyzzyx Road" will hit the streets July 31st through a new distribution deal between Grand Entertainment Group (GEG) and GoDigital, with GEG releasing the DVD and GoDigital retaining VOD rights. The film starring Katherine Heigl ("Knocked Up") and Tom Sizemore ("Black Hawk Down") is an independent thriller with shocking tragic twists, and will be available at major retailers including Amazon.com for $9.98. This new DVD release will include special features including 30 minutes of behind the scenes footage.
When Grant (Leo Grillo) takes to the road for work in Las Vegas, he meets the seductive Marissa (Katherine Heigl). They have a week-long affair, and with the unexpected arrival of Marissa's ex-boyfriend, Joey (Tom Sizemore), lust, passion and death soon follow. A long night's drive down Zyzzyx Road, a dead body, what more could go wrong?
This first release is part of a newly inked new deal with GoDigital, where GEG will be distributing VOD titles via DVD, while GoDigital provides a VOD outlet for GEG's newest acquisitions. In making the announcement President/CEO, David Rand said, "Chief Content Officer, Jason Beck and I share a long, successful history in the entertainment industry. GoDigital provides the resources and man power we need while we are in our early stages of development. "Zyzzyx Road" will be the first of many collaborations".
Additionally, GEG has allied with MouseTrap Films through its subsidiary Film Festival Flix. Mousetrap Films syndicates film festival favorites to cinephiles across America that otherwise would not be seen outside of the festival circuit. They find, acquire and distribute these gems to film communities nationwide. Grand Entertainment Group will handle DVD distribution for Film Festival Flix features with exclusive retail partnerships.
Rand added, "A mutual friend recognized that our company would benefit through an alliance with Benjamin Oberman (CEO/President) at MouseTrap Films. MouseTrap's content bank provides perfect synergy for our distribution capabilities."
GEG's partnerships with GoDigital and MouseTrap Films are mutually beneficial for all, ultimately allowing indie films an opportunity to reach larger audiences. Grand Entertainment, which just launched recently, is on a par to make 2012 "grand." With more than 10 films slated for release this year, GEG is quickly gaining a reputation as an esteemed distribution outlet.
Grand Entertainment | http://www.GrandEntertainmentGroup.com
Grand Entertainment Group (GEG), launched in early 2012, as a complete destination for programming. With the ability to distribute DVD, digital, streaming, television and limited theatricals, Grand Entertainment gives filmmakers and their films the platform they deserve. Grand Entertainment Group is a subsidiary of Grand Distribution Group that encompasses production and distribution for diversified products, services, and technologies. With a line-up of films slated through 2013, GEG is moving forward in a "Grand Way."