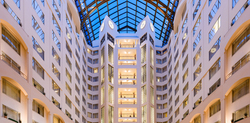 Oklahoma City, OK (PRWEB) April 12, 2011
Today, Monscierge announces their newest installation at the Grand Hyatt Washington –– the home of DC's first Monscierge screen.
"We're glad to be the trendsetters in DC," said Matt Hurlburt, Senior Executive Assistant Manager - Rooms Division, Grand Hyatt Washington. "The thing that set Monscierge touch screens apart for us, is that we saw this as an opportunity to enhance our traditional concierge service."
For the Grand Hyatt Washington, their new Monscierge hotel touch screen offers guests convenient access to information about their amenities and allows guests to browse the hotel's recommendations for restaurants, attractions and entertainment in the DC area. In addition, guests can create and print custom directions and utilize travel tools like flight stats and weather forecasts. The Grand Hyatt Washington believes that in addition to their concierge, the inclusion of their new Monscierge touch screen will help them cater to every kind of guest.
"So much of our world is driven by this kind of technology, and now we'll have the ability to give people the option of what they are most comfortable with –– talking to our concierge or getting their information from technology," said Hurlburt. "This especially helps us reach the younger generation of guests that may prefer technology to our traditional services."
For Monscierge, not only is the Grand Hyatt Washington their first DC partner, it is also their fifth Hyatt partner property.
"We are excited to expand our relationship with Hyatt, and it's been a pleasure working with Matt," said Kacey Butcher, VP of Logistics at Monscierge. "We're also excited to be expanding our footprint in such a great area. Washington DC is a key location for America –– for both domestic and international travelers. It's an honor to be a part of that community."
Grand Hyatt Washington is the first in town to offer their business and leisure guests the Monscierge service. As of Friday, April 8th, Grand Hyatt Washington guests have the helpful familiarity of their concierge and the convenience of Monscierge technologies.
About Monscierge
Monscierge is an international software company, specializing in interactive and touch screen solutions for the hospitality industry. Founded 2009, Monscierge is a privately held company. Their North American office and Innovations Center is located in Oklahoma City, Oklahoma. Monscierge provides services for clients around the world, including J.W. Marriott, Hyatt, Kimpton and Hilton properties. For more information, please visit http://www.monscierge.com.
About Grand Hyatt Washington
Centrally located in trendy Penn Quarter – with convenient in-lobby Metro Center access – this downtown Washington DC hotel is an ideal spot to explore the US capital. Stroll to concerts or sporting events at Verizon Center, historic monuments or the Smithsonian Museums. When you return to our captivating Penn Quarter hotel, enjoy stylish guestrooms with plush Grand Beds™, indulgent amenities, multiple dining venues and recreation at Grand Slam. Utilize our full-service business center and 32 outstanding meeting rooms – just steps from Washington Convention Center. Relax by the lagoon in our lovely 12-story atrium. Experience the highest standard of luxury in our Hyatt hotel in downtown Washington DC. For more information, please visit http://www.grandwashington.hyatt.com/.
###