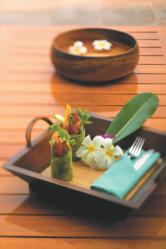 ...Offering them a definitive guide to their options at each of our restaurants and lounges provides assurance that they will be able to relax and enjoy their time with us.
- Chef Eells
Poipu, Kauai, HI (PRWEB) July 09, 2011
The newly renovated Grand Hyatt Kauai Resort & Spa has launched its own gluten-free dining guide making it easy for those with sensitivities to dine out. With the growing number of food allergies in the population, this guide is a welcome sign for many.
The Kauai, Hawaii resort's Executive Chef, Larry Eells, and his team carefully developed recipes and noted all dishes at each restaurant fitting the criteria. Wanting to provide many options and restore the enjoyment in eating out for those with gluten sensitivities Chef Eells states, "If people are worried that a dish as a whole or sauce might have gluten in it, they will have a hard time savoring the flavors of the food and enjoying their experience. Offering them a definitive guide to their options at each of our restaurants and lounges provides assurance that they will be able to relax and enjoy their time with us." Upon mentioning gluten-free needs, the server, hostess, or concierge will provide them with the Guide which outlines all of their options while at the resort. As food sensitivities rise, restaurants must be prepared to adapt to the needs of their guests. "Restoring confidence in the dining experience for the guest and having our staff trained to provide for special dietary needs is essential", asserts Chef Eells.
As diners at the Kauai resort's Tidepools restaurant enjoy views from thatched-roof bungalows set over a tropical lagoon they'll find the freshest of fish including Hawaiian Opah or Mahimahi. At Dondero's, the resort's Italian restaurant, gluten free pastas are available upon request for any dish. There are even plenty of delicious choices, in addition to the great entertainment, at the Luau. Beautiful views, delicious food, and worry-free dining for those with gluten sensitivities make Grand Hyatt Kauai Resort & Spa a great place for eating out.
ABOUT GRAND HYATT KAUAI RESORT AND SPA
Grand Hyatt Kaua'i Resort & Spa, a luxury resort on a white sand beach in Poipu, on Kauai's sunny south shore, offers 602 newly renovated guest rooms each with its own lanai. Set on 50 oceanfront acres, the resort features lush gardens with manicured lawns, six restaurants and six lounges, a water playground with a river pool, waterfalls and a 150-foot water slide, a saltwater lagoon, tennis, the award-winning Anara Spa, and golf at the adjacent Poipu Bay Resort. For more information, please contact 1-800-55-HYATT or grandhyattkauai.com.
###