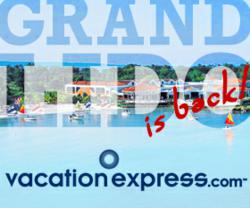 "The hotel's first major incentive group was brought to the hotel by Vacation Express and from there the relationship exploded," said Kevin Hernandez, vice president of digital strategy and sales at Vacation Express.
Atlanta, GA (PRWEB) May 03, 2013
It isn't often when two companies, both having been through major changes over a quarter of a decade, reunite. But, that's exactly what happened when Atlanta-based Vacation Express, part of the Sunwing Travel Group and TUI Travel PLC, added Grand Lido Negril Resort & Spa to its Jamaica Program. Both Vacation Express and Grand Lido have their roots in Jamaica. The Atlanta-based tour operator, which was famed for their first programs to Jamaica, opened their doors nearly the same time as Grand Lido's original opening.
While Vacation Express' founders attended the grand opening of the property nearly 25 years ago, today they find themselves celebrating again the grand re-opening of Grand Lido Negril Resort & Spa. Launched with much fanfare as a luxurious all-inclusive resort, they offered unheard of amenities, for that time. Dazzling the jet set crowd on the beautiful Bloody Bay Beach, a once haven to pirate ships in hiding, the all-Junior Suite configuration did, and still does, provide guests with larger than typical rooms and access to one of Jamaica's most awarded beaches.
While neighbors have now joined the hotel on the once vacant beach, the large cove still provides warm crystal blue waters and a tranquil stretch to take long walks into the sunset. "The hotel's first major incentive group was brought to the hotel by Vacation Express and from there the relationship exploded," said Kevin Hernandez, vice president of digital strategy and sales at Vacation Express.
Vacation Express makes experiencing Grand Lido hassle-free with land and land/air packages available from a variety of airlines. For those in the Cincinnati area, Vacation Express offers exclusive weekly non-stop champagne flights to Jamaica departing Sundays. Why exclusive? Travelers on Sunwing Airlines receive additional perks of complimentary bar and hot meals or snacks, first-run movies and headsets, as well as one free checked bag. "Vacation Express is pleased to be among the first tour operators selling rooms at the re-opened Grand Lido. We pride ourselves in offering extremely competitive prices," said Rene Jongmans, president at Vacation Express. A seven night stay with non-stop air on an exclusive Sunwing Airlines champagne flight from Cincinnati is only $1099*. If traveling from New York City, vacationers can experience Grand Lido for only $999 for a five night stay including airfare and all taxes. [Additional air and land packages are located in the additional attachment.]
Re-opening as an adults-only resort, Vacation Express jumped on the chance to add the all-inclusive resort to their hotel roster. "The hotel is in an excellent position to offer everything expected by today's all-inclusive traveler. The beach is as magical as ever and, unlike 25 years ago, it can be reached by a 45- minute transfer from the airport on the new highway to Negril. Gone are the days of a long transfer times, making this a much more viable option for travelers," said Hernandez.
Once in Negril, there are many attractions to be enjoyed by visitors including the famous Rick's Café, where one can jump from what seems like a mile high cliff and enjoy one of the Caribbean's most spectacular sunsets. Just steps away from the famous 7-Mile Beach, guests can explore horseback riding on the beach, jungle river tubing and swimming with dolphins.
The hotel has maintained its classic charm and features hassle-free dining at six world-class restaurants. As the sun begins to set, the night rhythms begin to rise with the excitement of top-rated entertainers and the thrill of authentic island culture.
The basic rooms at the resort are actually Deluxe Junior Suites which include a spa shower, branded amenities, plus satellite TV. For those seeking a little more luxe, the Deluxe Suites feature a Jacuzzi on their own private patio, as well as a separate living room area. Both Junior Suites and Deluxe Suites are available with ocean view and ocean front. No matter where guests are located in the hotel, they are sure to be steps away from the gorgeous turquoise waters. The latest in hotel amenities include free WiFi, non-motorized watersports and introductory scuba lessons in the pool. And for those wanting a little more attention and a whole lot of bling, the Deluxe Presidential Suite is exquisitely designed to fit for kings and queens.
The formula for guests is simple, larger than expected rooms, excellent expansive grounds, a reasonable number of rooms and unlimited food and beverages in world-class restaurants with exceptional cuisine. For more information on Grand Lido Negril Resort & Spa and Vacation Express, please click here. To request interviews or images, please contact Mavian Arocha-Rowe, Director of Content and Brand Communications at marocharowe(at)vacationexpress(dot)com or 404.321.7742 ext 3024. Reservations can be made at vacationexpress.com or by calling 800.309.4717.
Vacation Express, part of Sunwing Travel Group Inc. and TUI Travel PLC has been in existence for 25 years and has sold well over 2 million vacation packages. Vacation Express offers quality vacation packages to over 30 destinations in the Caribbean, Mexico and Costa Rica with a focus on value and client satisfaction.
# # #
EDITOR'S NOTE: Vacation Express is a U.S.-operated tour operator and is part of the Sunwing Travel Group Inc. and TUI Travel PLC. Grand Lido Negril Resort & Spa, a Blue Diamond Hotel & Resort is part of the Sunwing Travel Group.
**Advertised prices available for bookings made electronically though vacationexpress.com; small service fee of $10 applies when booking through Vacation Express Call Center. Prices are per person, based on double occupancy. For full terms and conditions, hotel and description of all services, please refer to vacationexpress.com. Some upgrades are subject to availability upon check-in. Packages at the above prices are limited and are subject to change without prior notice. Cincinnati public charter flights to Jamaica are operated by Sunwing Airlines; see Operator/Participant Agreement for details. Not responsible for errors or omissions.