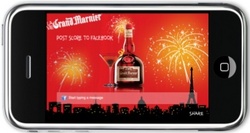 We noticed that consumers are often intimidated by the craft of the cocktail and thought it would be interesting to offer them the opportunity to become mixologists. [The App is] fun, authentic, and vibrant - Antoine Gervais, Business Dir., Grand Marnier
New York (PRWEB) July 15, 2010
Becoming a Grand Mixologist is now at your fingertips with the new "Grand Mixology" Game, created by Grand Marnier. Master the levels while learning essential bartending skills like shaking, pouring, mixing and cocktail creation. Peruse a recipe library of 300 cocktails including step-by-step videos of Andy Seymour teaching you to make your favorite Grand Marnier drinks. This new app makes it easy to have fun while perfecting your mixology skills… and, since your score is linked to your Facebook account, you can also boast that you are the best bartender on the social media scene.
View the tutorial video here: http://www.youtube.com/watch?v=S7X1YEzz-ow.
So, where did the app come from? "Grand Marnier has a long story of endorsements and close relationships with the best mixologists in the US," said Antoine Gervais, Business Director of Grand Marnier at Moet Hennessy USA. "So, it was a perfect fit to build this app around cocktail-making. We noticed that consumers are often intimidated by the craft of the cocktail and thought it would be interesting to offer them the opportunity to become mixologists. For that, a game is perfect! It's fun, authentic, and vibrant; all values that are expressed through the La Vie Grand Marnier campaign."
When there's an app for, well, almost everything these days, it can be difficult to develop something new – even with such a strong vision. However, Grand Marnier's app design agency, Lambesis, gladly accepted the challenge. "We capitalized on the enormous potential of Grand Marnier's rich history with the arts and authentic French heritage," said Lambesis's President and Executive Creative Director, Chad Farmer. "This app presents a distinct and ownable mobile cocktailing experience that introduces a new generation to the world of La Vie Grand Marnier."
With this in mind, Lambesis set out to create an innovative game with a cocktail focus and technologically-advanced sharing capabilities. They began by building 4 levels and over 10 cocktail challenges, where users create real-life cocktails in a digital world. Lambesis's Interactive Creative Director, La Mer Walker, adds "The app leverages the latest sensor driven technologies introduced by the iPhone for a rich gaming experience that engages users with intuitive cocktailing gestures and a compelling narrative." Then, high scores are shared on Grand Marnier's Facebook page – which has almost 40,000 fans - giving users the opportunity to brag about their gaming achievements.
Users of the Grand Mixology app will not only enjoy the gaming experience, but they will actually learn a thing or two about mixology. Andy Seymour, Master Mixologist of aka wine geek agrees, "The cocktail is most definitely back. At aka wine geek, Steve Olson and I spend a lot of our time trying to sharing our love for great cocktails and making them accessible to as many people as possible. Grand Marnier has been a favorite of bartenders forever because it brings great quality, flavor and richness. With cocktails in the home becoming so popular again, people are looking for tips on how to mix it up like the pros at their favorite bars. The Grand Marnier Mixology app is a tremendous source of information for anyone who wants to make great cocktails at home."
The Grand Mixology iPhone App is free and available to download today. Happy Gaming and good luck!
About Grand Marnier®
Created by Louis-Alexandre Marnier-Lapostolle, Grand Marnier® is the flagship liqueur of the House of Grand Marnier® established in 1827: the world's most premium orange liqueur. A blend of exotic bitter oranges and the finest Cognac, Grand Marnier® relies on a secret recipe passed down through six generations of the Marnier Lapostolle family. Grand Marnier® is the base ingredient of many inspired cocktail creations, and is also enjoyed on-the-rocks and neat. Exclusively imported by Moët Hennessy USA, Grand Marnier® retails at $38.00 per 750-ml bottle, and is also available in two higher marques: the Grand Marnier® Cuvée du Centenaire ($155.00) and the Grand Marnier® Cuvée du Cent Cinquantenaire ($240.00). Visit us on facebook.com/Grand Marnier or GrandMarnier.com for more information.
# # #