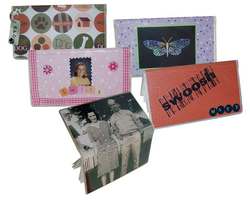 I love to see HandiRecords help users feel more ownership of their personal medical histories.
Rolling Meadows, IL (PRWEB) August 19, 2009
Blanchard Enterprises' "Bling Your Own" HandiRecords offers all crafters a one-of-a-kind way to personalize a valuable health and wellness gift for National Grandparents' Day on September 13. Simple and affordable, the $5.99 HandiRecords are checkbook-size medical information organizers with 24 pages to track medical conditions and treatments, allergies, medications, emergency contact information, hospitalization history, and more. Because HandiRecords use low-tech pen and paper, they're available for updating and reference anywhere at anytime. "Bling Your Own" HandiRecords let the youngest crafters create homemade covers for their grandparents.
"'Bling Your Own HandiRecords' have been used by groups and individuals to personalize and involve users as they access the healthcare system", added Ann Blanchard, creator of HandiRecords. "I love to see HandiRecords help users feel more ownership of their personal medical histories."
HandiRecords are ideal for both individual and organizational caregivers and healthcare providers, and since their introduction into the marketplace in 2007, HandiRecords have garnered both regional and national attention, including Today's Health and Wellness, which gave the product the "Member Tested and Recommended" seal, Woman's World, Health For Women, Healthwise, Caring Today, Caregivers Home Companion, and Aging Care. HandiRecords are available online for wholesale purchase and private labeling.
Blanchard Enterprises
Ann Blanchard launched Blanchard Enterprises in 2007 to help her manage the medical care of her own elderly parents - Joe, age 92 and Mary, age 89. Representing the first full product line of Blanchard Enterprises, HandiRecords are sold online through the company's website, and are currently available for shipment throughout the United States and Canada, with plans underway to expand shipment overseas.
# # #