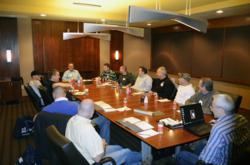 "we are still the same partner-driven, innovative organization that we have been throughout our existence."
St Louis, MO (PRWEB) February 18, 2013
Granger Contracting Company, Inc., a national retail environment contractor, celebrated their 30th Anniversary on February 2nd 2013 at the Ameristar Hotel and Casino in St. Charles, MO. The day-long celebration included a "Town Hall Meeting" which informed employees on the state of the company; multiple departmental breakout meetings which offered an opportunity for the office and field teams to interact; and an awards dinner, which included both employees and their significant others.
"This was an amazing celebration," said owner and founder Jim Granger. He continued, "We reflected on the good times, the hard times and how far we've come. We also took a moment to celebrate that while we've changed a great deal in 30 years, we are still the same partner-driven, innovative organization that we have been throughout our existence."
The event included more than 100 employees from the corporate headquarters and the field. Nationally based field teams traveled from their homes or job sites across the United States to celebrate the milestone and plan for the future. Matt Levenson, Owner and Executive Vice President commented on the event. He said, "It is very rare that we are able to get all of our office and field employees in a single location, so this event was a fantastic opportunity for everyone who participated." He continued, "Seeing the intense dedication and remarkable innovation of our two teams collectively was incredibly satisfying ."
During the dinner, multiple awards were presented based on performance and tenure. To close the dinner, the "Hard Hat" awards were presented, which are based on the company's core values of "integrity, safety and innovation." Granger said, "The Hard Hat Awards are our version of the People's Choice Awards as the recipients have been nominated by their peers." Levenson commented, "The number of awards that were created for this event is staggering. It's a true testament to the quality of our people and their commitment to our company."
About Granger Contracting Company, Inc.:
Granger Contracting Company, Inc. is a national retail specialty contractor dedicated to meeting the unique needs of retail clients. With 30 years of experience, the company provides highly scalable and customizable installation, construction, maintenance, logistics and program and project management services designed to help clients achieve their objectives in a constantly evolving retail environment.
Granger Contracting Company, Inc. is a wholly owned subsidiary of GNH Services, Inc.