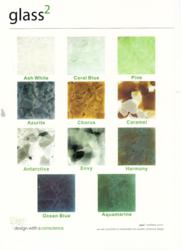 With a sustainable yet elegant look and ease of design and installation, glass 2 is a dream of both a fabricator and designer
Brisbane, CA (Vocus/PRWEB) July 06, 2011
There has never been a product like IRG's new glass 2! Created by a company committed to sustainable and socially conscious design, glass 2 is Cradle to Cradle Certified Silver.
Interested parties can see, touch, and learn about how to use and install this fabulous new product at the official product launch on Thursday, July 28 from 4:30 to 7:00 p.m. at the IRG Brisbane Showroom (275 Valley Drive). Enjoy complimentary hors d'oeuvres and wine (co-sponsored by California Home & Design Magazine). Please RSVP at 415-657-0280.
"With a sustainable yet elegant look and ease of design and installation, glass 2 is a dream of both a fabricator and designer," said Dilmohan Chadha, Owner of Integrated Resources Group. "glass 2 is made from 99 percent recycled glass, with no resin, glues or chemicals. It is cold, heat, and stain resistant so it can be used outside and in fireplace surrounds, columns, stairwells, furniture and more."
Impervious to stains and bacteria-free, glass 2 requires virtually no maintenance, making it the obvious choice for kitchen countertops, bathroom vanities, shower stalls and tub surrounds. Its flexibility and innovation allow creativity throughout your home or project.
glass 2 comes in spectrum of colorations: whites, blues, greens, and caramels…with more choices being produced every day.
Here's why this innovative new product is becoming a leader in the solid surface industry:

a certifiably green product – Cradle to Cradle Certified Silver
will not stain (including acids and wine)
easily repairs if scratched
available in 16mm to 35 mm thickness
will never fade or change color
easy fabrication/easy installation
available as safety glass
The new product glass 2 is once again making IRG the unique provider of some of the most impressive new materials available today. Additionally IRG is a top provider of marble tile, granite countertops, marble and onyx countertops, glass tiles, and wholesale stone.
For more information about Integrated Resources Group's products and services, call (415) 287-9844 or visit http://www.IRGstone.com.
About IRG
Integrated Resources, Inc. offers the largest selection of natural stone in the San Francisco Bay Area. The family-owned business started as a trading company in 1986 dealing in agricultural products, canned food, apparel and natural stone. In the early 1990s, they started to concentrate on natural stone only, opening an 18,000 square foot warehouse in South San Francisco.
With a growing reputation for their high quality natural stone and excellent service, they purchased the warehouse next door, and within a few years were carrying close to 50 types of stone. In 2003, Integrated Resources Group moved to a 60,000 square foot warehouse in Brisbane, with a beautiful showroom for customers. This is the current main location, where they carry over 250 types of stone. In 2004, a second showroom and warehouse opened in Dublin to service East Bay customers. For more info, see http://www.marblecompany.com.
###