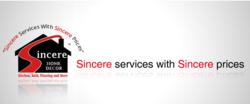 Granite countertops add elegance to any kitchen at a low price. The countertops are easy to maintain and durable and we have a wide variety to match any kitchen cabinets
San Francisco, CA (PRWEB) July 29, 2011
Bay Area's granite countertop company, Sincere Home Decor announces they now have more than 80 colors of granite in stock at their Market Street location in Oakland near Jack London, but the granite can also be purchased in any of their five locations around the Bay Area. Sincere Home Decor offers 10 percent off of the full line with eight-foot countertops starting at $49.99 per piece.
"We have a full stock of granite countertops with an extensive variety of colors that you won't see at other places. We also offer very competitive pricing," said Karen Au-Yeung, of Sincere Home Decor.
Sincere Home Decor offers installation and fabrication and countertops can be installed in just one day.
"Granite countertops add elegance to any kitchen at a low price. The countertops are easy to maintain and durable and we have a wide variety to match any kitchen cabinets," Ms. Au-Yeung added.
Sincere Home Decor is the Bay Area's kitchen cabinets one-stop shop for home decor needs. Sincere Home Decor provides a wide array of products from kitchen cabinets to hardwood laminate flooring. Sincere works closely with their customers, helping them through the home remodeling process, and they offer consulting services and also work with the community's best developers to provide the highest quality service in the Bay Area.
For more information on Sincere Home Decor and their products and services, give them a call at (510) 835-9988, Ext 301, or visit their website at http://www.sincerehardware.com. Sincere Home Decor is located at 4228 Geary Blvd. San Francisco, CA 94118 and has four other locations throughout the Bay Area.
About Sincere Home Decor
Sincere Home Decor is Bay Area's retail store services featuring kitchen and bath cabinets, granite and quartz countertops, appliances, bathroom fixtures, windows, hardwood/laminate flooring, wall and floor tiles, and other home remodeling supplies.
###