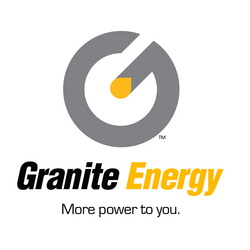 Energy is a global commodity, the listing on Frankfurt provides a global platform for investors and partners to participate with Granite Energy
Salt Lake City, UT (PRWEB) October 4, 2007
Granite Energy, Inc. (PINK SHEETS: GNGI – News ; the "Company") today announced its successful admission to the Frankfurt Stock Exchange. The trading symbol on the exchange for Granite's common stock is 33G.
"Energy is a global commodity, the listing on Frankfurt provides a global platform for investors and partners to participate with Granite Energy," stated Granite Energy's Chairman, Bruce Lybbert.
The Frankfurt Stock Exchange (http://deutsche-boerse.com) is one of the world's largest trading centers for securities. It is the largest of the seven German stock exchanges.
For additional information about Granite Energy, Inc., go to http://www.graniteenergy.com.
"Safe Harbor" Statement under the Private Securities Litigation Reform Act of 1995
Statements in this press release relating to plans, strategies, economic performance and trends, projections of results of specific activities or investments, and other statements that are not descriptions of historical facts may be forward-looking statements within the meaning of the Private Securities Litigation Reform Act of 1995, Section 27A of the Securities Act of 1933 and Section 21E of the Securities Exchange Act of 1934. Forward-looking information is inherently subject to risks and uncertainties, and actual results could differ materially from those currently anticipated due to a number of factors, which include, but are not limited to, risk factors inherent in doing business. Forward-looking statements may be identified by terms such as "may," "will," "should," "could," "expects," "plans," "intends," "anticipates," "believes," "estimates," "predicts," "forecasts," "potential," or "continue," or similar terms or the negative of these terms. Although we believe that the expectations reflected in the forward-looking statements are reasonable, we cannot guarantee future results, levels of activity, performance or achievements. The company has no obligation to update these forward-looking statements.
Contact:
Granite Energy, Inc.
Aaron Bringhurst, 801-532-6800
Aaron @ graniteenergy.com
Source: Granite Energy, Inc.
# # #