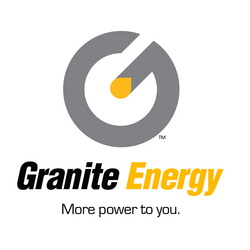 Salt Lake City (PRWEB) October 3, 2007
Granite Energy, Inc. (OTC:GNGI) (the "Company"), today announced its intention to distribute via a dividend, a portion of its ownership interest in Greenstart, Inc. Jason F. Griffith, Granite Energy's Chief Financial Officer addressed potential shareholder questions regarding the dividend.
The dividend will take the form of a dividend certificate representing restricted common stock, which will be distributed to the Company's beneficial stockholders of record as of the record date, which is October 15, 2007.
The stock dividend will be distributed to owners of the Company's common stock as of the record date in a ratio of one share of dividend stock for every 45 shares of common stock held by Granite Energy Inc. shareholders.
Certificates for the dividend stock will be mailed from the transfer agent soon after the record date.
Why is Granite Energy Inc. distributing Greenstart Inc. common stock?
There are several reasons for the distribution, including the following:

it is expected to enhance Greenstart Inc.'s ability to raise capital and expand its business;
it will allow Granite Energy Inc. to focus on its oil and gas core business segment;
both Granite Energy Inc. and Greenstart Inc. will be able to adopt strategies and pursue opportunities appropriate to their specific businesses;
Greenstart Inc. may be able to achieve future growth through internal expansion and acquisitions utilizing its own equity; and,
investors will be better able to evaluate the different merits of each business and its future prospects, enhancing the likelihood that each will achieve appropriate market recognition of its performance and potential.
Is there a trading market for the shares of Greenstart Inc.'s common stock?
Greenstart Inc.'s common stock is currently not traded or quoted on any public market. Management of the company is in the process of preparing to file a Form 211 with NASD and a Form 10SB with the Securities and Exchange Commission.
What is the record date for the distribution?
The record date for the distribution is October 15, 2007. This means that holders of record of Granite Energy Inc. common stock as of the close of business on that date are entitled to receive shares of Greenstart Inc. common stock in the distribution.
When will the shares be distributed?
The shares will be distributed shortly after October 15, 2007.
Who is the distribution agent?
The distribution agent is Interwest Transfer in Salt Lake City, Utah.
Will the distribution be taxable?
This transaction is not expected to be taxable as the distribution should be treated as a tax-free distribution to Granite Energy Inc. shareholders.
Who is the transfer agent and registrar for Greenstart Inc common stock?
The transfer agent and registrar for the Greenstart Inc. common stock is Interwest Transfer in Salt Lake City, Utah.
The shares certificates will additionally have the following legend on them:
The shares represented by this certificate are subject to stop-transfer orders by the Company to Interwest Transfer, the Company's transfer agent, and are NOT transferable unless and until such stop-transfer orders are removed by the Company, which shall be done (if at all) in the Company's sole discretion. The Company will notify the registered holder of this certificate upon any such removal.
For additional information about Granite Energy, Inc., go to http://www.graniteenergy.com .
About Greenstart, Inc.
GreenStart Inc. has significant patents, licenses and technologies that are sustainable in producing large volumes of clean, renewable, non-global warming energy from the conversion of any carbon-based feedstock either solid or liquid, such as municipal solid waste (MSW), coal, sewage, used tires, forestry waste, agriculture waste, animal carcasses and biomass to a flexible combination of electricity, steam, fuels, chemicals and hydrogen. This approach carries with it some distinct social and economic advantages. Our units offer value by generating substantial revenue streams, eliminating the need for future landfills, while creating energy and renewable fuels from waste products with little or no value. This primary energy is converted with greater efficiency and with less waste than current methods.
GreenStart's Downdraft Gasification technology overcomes many problems related to other gasifiers, producing a clean Synthesis gas (made up primarily of Hydrogen and Carbon Monoxide). The Syn-gas is efficiently converted by a Catalytic Slurry Cyclone Reactor licensed by the University of Utah into liquid fuels (Dimethyl Ether, Ethanol, Gasoline, Jet Fuel or Diesel Fuel) or can be burned directly in a gas turbine to create electricity. The Dimethyl Ether (DME) like Syn-gas is a building block used in the chemical industry and can be converted to several different products, depending on the catalyst used. Results are 100% green power, water and air emissions that are environmentally safe.
"Safe Harbor" Statement under the Private Securities Litigation Reform Act of 1995.
Statements in this press release relating to plans, strategies, economic performance and trends, projections of results of specific activities or investments, and other statements that are not descriptions of historical facts may be forward-looking statements within the meaning of the Private Securities Litigation Reform Act of 1995, Section 27A of the Securities Act of 1933 and Section 21E of the Securities Exchange Act of 1934. Forward-looking information is inherently subject to risks and uncertainties, and actual results could differ materially from those currently anticipated due to a number of factors, which include, but are not limited to, risk factors inherent in doing business. Forward-looking statements may be identified by terms such as "may," "will," "should," "could," "expects," "plans," "intends," "anticipates," "believes," "estimates," "predicts," "forecasts," "potential," or "continue," or similar terms or the negative of these terms. Although we believe that the expectations reflected in the forward-looking statements are reasonable, we cannot guarantee future results, levels of activity, performance or achievements. The company has no obligation to update these forward-looking statements.
SOURCE: Granite Energy, Inc.
CONTACT:
Granite Energy, Inc.
Aaron Bringhurst
801-532-6800
Aaron@graniteenergy.com
###