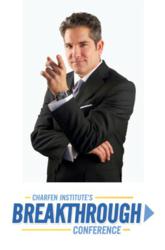 "We're excited to bring his insights and experience to Breakthrough 2012 attendees, many of whom are facing similar struggles in today's depressed estate market."
Austin, TX (PRWEB) May 31, 2012
Alex Charfen, CEO of the Charfen Institute, announced today that the company's lineup of speakers for its July 15-18, 2012, Breakthrough Conference in Las Vegas will include Grant Cardone. Cardone is an international sales expert, bestselling author, and executive producer and star of "Turnaround King," a TV program created around Cardone's results-oriented training technologies.
In its inaugural year, Charfen Institute's Breakthrough Conference presents an unprecedented networking and production-boosting opportunity for real estate agents. For the first time ever, it will bring together STAR POWER® Stars, Certified Distressed Property Experts® (CDPE), Certified Investor Agent Specialists® (CIAS), and other real estate professionals, all of whom are among the top-producing agents in the industry and on the front lines of the housing market recovery.
"Grant Cardone is one of the top sales trainers in the nation and has helped all types of businesses—large and small—prosper in what he deems the 'real economy,'" said Charfen. "We're excited to bring his insights and experience to Breakthrough 2012 attendees, many of whom are facing similar struggles in today's real estate market."
Grant Cardone is an internationally recognized sales training expert working with individuals and companies of all sizes, and is an active real estate investor. Cardone and his companies have customized training programs and sales programs for banks, real estate agencies, financial consultants as well as companies in the MLM, telecommunications, retail sales and fitness. Cardone's programs have trained hundreds of thousands of people in organizations around the world.
"I built a real estate company that has bought and sold over $200 million in commercial transactions including residential, multi-family properties and shopping centers," said Grant Cardone. "I believe real estate, especially that multi-family will prove to be the single best investment over the next decade or so."
For more information about Charfen Institute's Breakthrough Conference and the complete lineup of more than 45 speakers, visit: CharfenBreakthrough.com
About Charfen Institute
The Charfen Institute educates and trains real estate professionals and small business owners to find opportunities in chaos – either by providing solutions to the foreclosure crisis or empowering entrepreneurs with strategies to embrace their companies' full potential. The company produces more than 300 educational events each year through various divisions, including: the Certified Distressed Property Expert® (CDPE) Designation, the Certified Investor Agent Specialist® (CIAS), LEAD Experience™, and its annual Breakthrough Conference. The CDPE Designation is the fastest growing independent designation in real estate industry history, with more than 40,000 agents trained since 2008. In 2011, the Charfen Institute ranked No. 21 on the Inc. 500 List of America's Fastest-Growing Private Companies.
About Grant Cardone
Grant Cardone, is the Founder and CEO of three multi-million dollar companies and has authored five books since the 2008 financial crisis. Cardone is the star and executive producer of the reality TV show Turnaround King, and can be regularly seen on outlets such as Fox Business, NBC and Business Insider. He was named the Top Sales Expert and a Top 10 Business Coach to follow on Twitter with over 200,000 followers. His commentary on business, financial and social issues have been carried in a wide variety of publications including Entrepreneur, Forbes, Huffington Post, the Los Angeles Times, and New York Post. For more information on Grant Cardone please visit http://www.GrantCardone.com
###