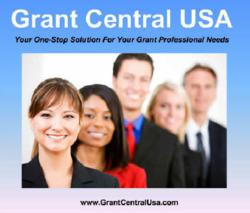 The certificate will allow students to become proficient in the eight steps of the grant writing process
Los Angeles, CA (PRWEB) October 08, 2012
Nonprofits of all sizes are feeling the budget pinch just like their larger counterparts at city, state and federal agencies. As a result, many are looking for new ways to secure funding for their programs. One solution: Grants. Unfortunately many individuals who are asked to prepare and submit grant proposals have little or no training. That problem can change, however, in just two short days.
This fall the Grant Central USA will offer a Grant Writing Certificate designed for professionals who are new to the grant writing process as well as for those who are currently working on a grant project. The program is also appropriate for experienced grant writers who want to increase their skills.
Classes will be held Wednesday and Thursday, December 5 and 6, 2012 from 9:00 a.m. to 4 p.m. on the University of Baltimore. The certificate will allow students to become proficient in the eight steps of the grant writing process and will provide students the tools necessary to develop solid grant proposals for their organization.
In addition to the writing process, the certificate prepares students to make better-educated decisions regarding which funding applications to pursue and teaches student how to research and find those that best suit their organization's needs.
"Due to the fact that the amount of available funds is so limited today, nonprofits and for-profit organizations are often competing for the same funding," says Rodney Walker of Grant Central USA. "Because of this, it's imperative that individuals trying to secure this type of funding have all the knowledge and skills possible in order to increase their success rate."
With a growing demand for talented grant writers wishing to secure funding for programs, initiatives and other causes, this grant writing certificate is ready to boost the supply. Visit grantwritingonlinecourse.com/baltimore for complete program details, registration information and directions to the event.
About the Company
Grant Central USA is a leading provider in the grant writing training industry offering both in-person and online grant writing classes. The company is based in Pasadena, CA and serves individuals and organizations nationwide to do a better job in writing grants that get funded. Learn more today about our grant writing certificate programs online today! For more information visit GrantCentralUsa.com or call 1.888.293.0284. Experience the next Grant Writing Workshop in Baltimore or try our online grant writing course.