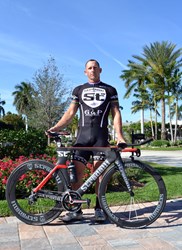 Congratulations to Grant for his decisive win at this year's Florida State time trial championship
Pompano Beach, FL (PRWEB) October 17, 2013
Stradalli Cycle, the affordable high performance carbon bicycle manufacturer, would like to congratulate Grant Potter for winning the 2013 Florida State Time Trial Championship for Graner-Stradalli Cycle on a Stradalli Phantom II.
Potter came first with a time of 52:55.9 at the event, which was held in Olustee, Florida on October 13, 2013. Potter managed to beat his nearest rival Adam Skindel by over two minutes.
This latest victory is one of several major wins that Grant has achieved in recent years including the 2012 Florida State Championship, the 2011 Florida State Road Race Masters Championship, and the 2011 World Cup championship.
For the race Grant Potter used a Stradalli Phantom II full carbon fiber time trial bike which features the most aerodynamic TT frame Stradalli has ever produced.
"Congratulations to Grant for his decisive win at this year's Florida State time trial championship" said Thomas Steinbacher, CEO of the Stradalli Cycle Company. "We are all thrilled that the hard work we put into designing and building the Phantom II has yet again produced fantastic results for a top athlete like Grant."
The frame on the Phantom II has several innovative design features which reduce drag including a bayonet style fork that slices through the air. By using an integrated fork, stem, and handlebar design the rider has a near perfect aerodynamic position and yielding some of the lowest exposed frontal surface area on any cycle available today. To further reduce drag, the Phantom II's TRP rear brake is tucked in underneath the oversized chainstays which increases the aerodynamics of the frame.
About The Stradalli Cycle Company
The Stradalli Cycle Company is based in Florida and sells worldwide to the keen athlete who demands the best equipment. With years of experience in both high tech manufacturing and design as well as a passion for cycling, Stradalli brings passion and innovation to the road racing and mountain bike markets.