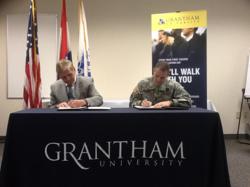 Kansas City, Mo. (PRWEB) December 14, 2012
Grantham University and the United States Army Recruiting Command's 5th Recruiting Brigade, Kansas City Recruiting Battalion signed a Memorandum of Understanding today, which will provide the battalion's Future Soldiers with the opportunity to take an Army Ready course through the University.
"Our Soldiers are a reflection of the best of America, highly qualified and with a genuine desire to serve," said Vernon Jakoby, commander of the U.S. Army Recruiting Battalion here. "This program will ensure our Future Soldiers receive the college credit they earn during their preparation for basic training."
Army Ready is a class that will be offered exclusively to the battalion's future soldiers who are waiting to ship out to training. In the class, soldiers will learn about different aspects of post-secondary learning in an Army-centric fashion. Once the soldiers have finished basic training and Advanced Individual Training, they will be able to combine that experience with the Army Ready course and have a jump start on completing their college education.
"Joining the Army takes an informed decision by brave individuals, much like pursuing a college degree," said Cynthia Lockett, Grantham's USAREC coordinator. "With the partnership between Grantham and the 5th Recruiting Brigade, Kansas City's future soldiers will be Army ready and college ready."
In 2012, Grantham was named one of the "Top Military-Friendly Universities" by Military Advanced Education magazine for the sixth consecutive year. Grantham's history of service to the military began in 1951, when World War II veteran Donald Grantham founded the University to provide continuing education opportunities to veterans returning home from war. Over the last six decades, the University has expanded its online degree program offerings, student support structure, and military scholarship opportunities to continue to meet the educational needs of service members, veterans and military families.
To learn more about Grantham University and its online degree programs, visit http://www.grantham.edu or call 800-955-2527.
About Grantham University:
Established in 1951, Grantham University is a private institution that specializes in online education for the working adult student. Its mission is to provide accessible, affordable, professionally relevant degree programs in a continuously changing global society. Grantham's courses are 100% online, allowing students to study at home, at work, on Temporary Duty (TDY) or from almost anywhere in the world. Accredited since 1961 by the Accrediting Commission of the Distance Education and Training Council, Grantham University has compiled a distinguished record as a respected and accredited distance learning university spanning six decades of service to education.
###