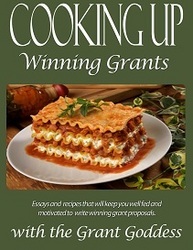 Cooking Up Winning Grants with the Grant Goddess
Woodland, CA (Vocus) November 12, 2010
Creative Resources and Research, one of the nation's leaders in grant writing and resources for grant writers, has released a new digital resource. "Cooking Up Winning Grants with the Grant Goddess," a collection of essays and recipes, is a brand new e-cookbook. This new resource is now available as a free download in a pdf format. The ebook may be accessed at the Creative Resources and Research web site.
Veteran grant writer Veronica Robbins, the CEO of Creative Resources and Research (CRR), has been a professional consultant for17 years. She leads her team of consultants in the development of new products that share the team's collective knowledge and experience with other grant writers. Veronica's grant writing success is evident in the fact that CRR secured more than one hundred fifty-five million dollars in grant funding for clients over the past decade.
The new e-cookbook features exclusive original content, recipes, and professional graphics and formatting. The e-cookbook contains nine essays and nine recipes. Among the topics and recipes are these three essay titles and their corresponding recipes Deadlines are like Burritos (Ultimate Grant Beast Burritos), Grant Writers are Wah-Wah-Licious (Wah-Wah-Licious Ribs), and Bless His Cotton Socks (Bless My Butter Tarts).
Cooking Up Winning Grants with the Grant Goddess is the fifth e-book published by Creative Resources and Research. Other e-book titles include; 12 Secrets of Successful Grant Writers, Freelance Grant Writing, Selecting an Evaluator, and Using Social Media to Increase Your Business.
About Creative Resources and Research:
CRR is a consulting company located in Woodland, California, 25 miles northwest of Sacramento. CRR's consulting team provides grant writing, grant research and program evaluation services in addition to professional development and organization consulting.
# # #