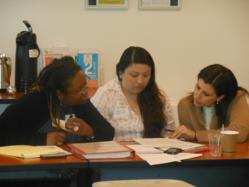 Los Angeles, CA (PRWEB) August 03, 2012
Grant Central USA will present its award-winning grant writing course at the University of Hawaii on September 19 – 20, 2012 from 9 a.m. – 4 p.m. entitled, "Grant Writing That Gets Funded." This fee-based event is open to the general public and designed to help new and seasoned grant writers develop better grant proposals to secure much needed funds for their agencies. This training comes on the heels of many states and municipalities trying to fully recover from a sluggish economy.
"Based on the most recent development in the national and global economy, the performance of Hawaii's tourism industry, the labor market conditions in the state, and growth of personal income and tax revenues, Hawaii's economy is expected to continue positive growth for the rest of 2012 and into 2013," according to Richard Lim, Director of the Department of Business, Economic Development and Tourism.
However, this does not negate the fact that nationally many nonprofit organizations have faced the challenges of layoffs, program cut backs and several have had to close their doors. These drastic measures begin to have a direct impact on the quality of life for those who depend on the services delivered by these agencies.
"We are elated to have this opportunity to share many of the best practices in grant writing in Hawaii with new and seasoned grant writers as one small way of helping to develop stronger communities" says Rodney Walker, President of Grant Central USA. "At the end of the day, it all comes back to relationships, even in grant writing and we help our students to incorporate this important principle into their grant writing efforts," says Walker. He views their trainings as much more than simply helping organizations to write better proposals. Walker views their roles as "bridge builders" to connect an organization's missions to money to fulfill their charitable goals.
Grant Central USA conducts trainings nationwide and partners with several colleges, universities, associations and foundations to strengthen the work of local organizations to increase their fundraising capacity. They also provide several free and fee-based grant writing webinars and threaded discussion forums to support grant writers.
One unique aspect of this training is Grant Central USA combines both in-person instructions and online resources to reinforce the principles learned during the workshop. Each participant receives 60 day access to the grant writing classes online after their two day workshop. This online course allows each student to see and hear engaging lectures and colorful PowerPoint slides to reinforce the key concepts taught during the training.
"This was one of the best courses I've been to…To be truthful, coming into it, I was skeptical, because I been to a lot of training courses and you get there and you really hadn't learned much more than when you came. But this was totally the opposite. As a matter of fact, I probably learned more in this two days then I had in other workshops that were a week or longer," says Jason Pruner of Indigenous Technologies. "Hopefully, your organization will take advantage of Grant Central USA's training and increase your fundraising capacity for the greater good of Hawaii."
For more information about this topic or the grant writing workshop please call 1.888.293.0284 or register at GrantWritingOnlineCourse.com/hawaii